Business listing on Google Step By Step Process
February 26, 2018
2018-02-26 13:34
Business listing on Google Step By Step Process
Business listing on Google Step By Step Process
Business Listing on Google Step By Step – Are you an entrepreneur and thinking to start your Business? Have you already a business which people don't know? Do you want more visitor to your Busines? Then you are at the right place today I am going to tell you, How will you make your business online? This is the prime thing people do when they start his/her business.
Every business today wants to be online. We are living in the digital world. If you do not play with the technology you will leave behind.
So, Make your Business Online, promote your business, Do proper SEO and then see how the visitor will come to you.
If you don't have a website, Make a website for your business. A website is very important to list your business and to serve your services.
I will help You to build a Website. Have a look – How To start a Website Step By Step procedure?
I am also providing the full course of Website, including Web Design, SEO, Affiliate Marketing Strategy and Digital Marketing.
You can Buy it here – Buy On Instamozo Now
So, Lets Now Come on the topic and See how to list your Business to Google
Business Listing on Google Step By Step
Here is the step by step procedure to list your business on Google.
1.  Open Google My Business and click on Sign in
2. Click On Add Location Button
3.  Enter your Business name at the given place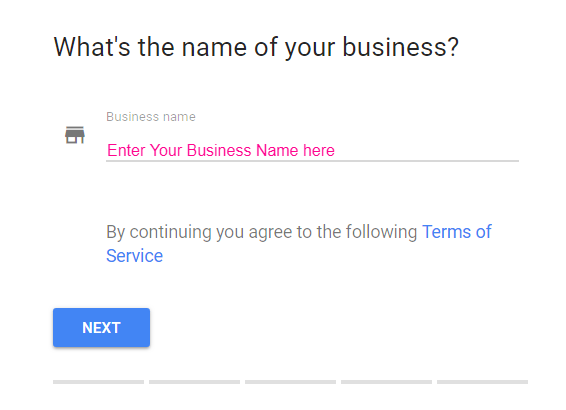 4. Fill out your correct Address/Location Including Building name, Hous No, Street, District, Village, Town, City, State, Country, and Pin. You can also mention Contact Person name
5. Enter your delivery Area. There are three options you can go with. Choose options according to your business and delivery type.
How do you deliver goods and services to your customers?
a. Using mail or a courier.
b. Deliver in person within region, city or postcode.
c. Deliver in person within a distance from the business.
6. Choose a Business category from the given categories.
7. Fill out Phone number details and website information.
8. Verify your connection to this business and click on continue
9. Choose a way to verify your Business, generally, It is by postcard In India. you will get a courier In 12-15 days.
The courier consists of an envelope with Pin, which you have to enter to verify your Busines.
Once It is verified. Your business will start showing in Google Search.
What more you can do after Listing?
See, you have just made the first step to list your business online. There is a lot of things which you can do right now before the verification pin reach to you.
Here I have made a list of those important things. Have a look and implement them to list up in your circle.
1. You can manage photos of your business. Which picture you want to show to your visitors when they find you on Google. Try to add pictures which clearly define your services.
Add Profile Pic
Add a  Cover Pic
You can also add interiors and exterior Pics for better impact.
Add videos to tell the story of your business and what makes it unique.
2. You can Add a virtual tour.
3. You can edit your information which includes – Working hours, Store Code, Labels and more.
4. if you don't have a website then you can create a website using "Create Website option" in left Panel.
5. You can add a new location for your Business. You can do it own. The full process is defined below in this article.
Adding new locations to your business list
I am very happy to see that you are expanding your business and adding new locations. It 's obvious and People always expand their Business. So Listing of new Business on Google is also an important task, which you need to perform always whenever you change your locations or add some new locations for your Business.
Here is the step by step procedure to add new business locations –
1. Login to Google My Business Account
2. Click On Add new location button in the Left Panel
3. Repeat the exact same process as I have discussed earlier in this article.
Report Wrong business info or a closed business
If you see something wrong with a business you don't own or manage. If you found something Misleading or Wrong pieces of information given on google map which Includes –
Incorrect road names
Wrong info about one-way and two-way roads
Incorrectly drawn road
Road closures
A road on the map doesn't exist
Missing roads
Wrong addresses or marker locations
then you can suggest an edit using Google Maps.
If personal information appears on a business or place's search result in Maps or Search, you can report it through Google Maps.
Here are the important steps you can follow to remove –
Open Google Maps on your computer.
Search for the business.
Click Suggest an edit on the card below the search box.
Follow the instructions to report your issue.
Click Submit.
Read Also: Top 25 ways to increase website traffic