GoDaddy Affiliate Marketing Program Review – 1000$ Proof
May 30, 2018
2018-12-29 16:02
GoDaddy Affiliate Marketing Program Review – 1000$ Proof
GoDaddy Affiliate Marketing Program Review – 1000$ Proof
GoDaddy Affiliate Marketing Program Review– GoDaddy offers upto 100% affiliate commission on nearly all products. Just place some banners and links from GoDaddy on your website and make money for every sale made through these ads.
I have also shared my income proof of GoDaddy Affiliate. So, let's see each aspect of GoDaddy Affiliate Marketing program.
How to join GoDaddy Affiliate Marketing Program?
Joining an affiliate program is not a tough task. You just need to take care of some predefined aspects.
Like, When you join an E-commerce affiliate program like Flipkart and Amazon then you don't need a website. But in case of Hosting and VPN Affiliate programs, mostly you need a website.
Also, to join GoDaddy affiliate program you need a website. So, I hope you would have a website before going ahead. If not, no need to worry.
Creating a website is not a cozy task these days. You can make an awesome website in just a few steps without having coding knowledge.
Read Now – How to create a Website Step By Step?
I hope you have a website now. Follow these step to signup for GoDaddy Affiliate program.
1. Open this link – Join GoDaddy Affiliate
2. Click on Join Now Button. You will be redirected to commission junction website. Godaddy Affiliate program is honored to be recognized by Commission Junction.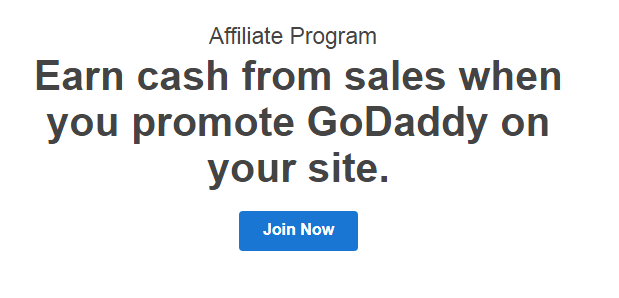 4. Fill up the details and sign up for the Godaddy Affiliate you can read more about signing up on Cj Affiliate as a publisher here.
Read Now – How to join CJ Affiliate to promote any publisher product.
5. Once done. Go to advertiser section and search for GoDaddy.
6. Now click on Join Now Button to join the GoDaddy Affiliate program.
7. Accept the tems and condition of the advertiser. Once done wait until your request is approved. It might take some time to get the approval.
After getting the approval you will be allowed to share the products or link. You know, In an affiliate program you only get money when somebody uses your link to purchase a product.
How to Create GoDaddy Affiliate link?
This is the prime task you need to do after getting approval from GoDaddy. To choose products and to get an affiliate link (Html links, JavaScript Links, and Clickable links) click on get links button.

You will be redirected to the GoDaddy product page where you can generate links for any of the products and offers available.
Please keep in mind products and offers are changing time to time. You will be notified of these changes through your mail.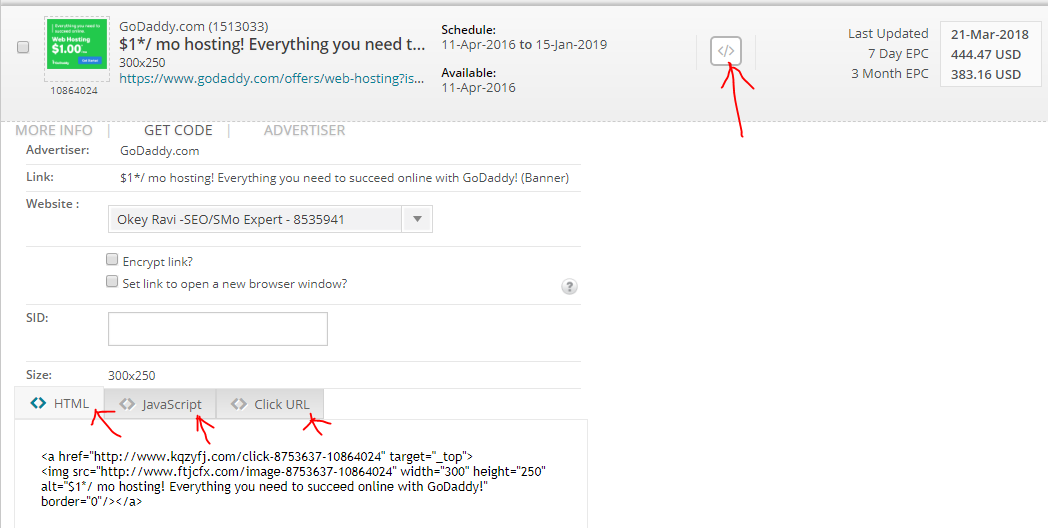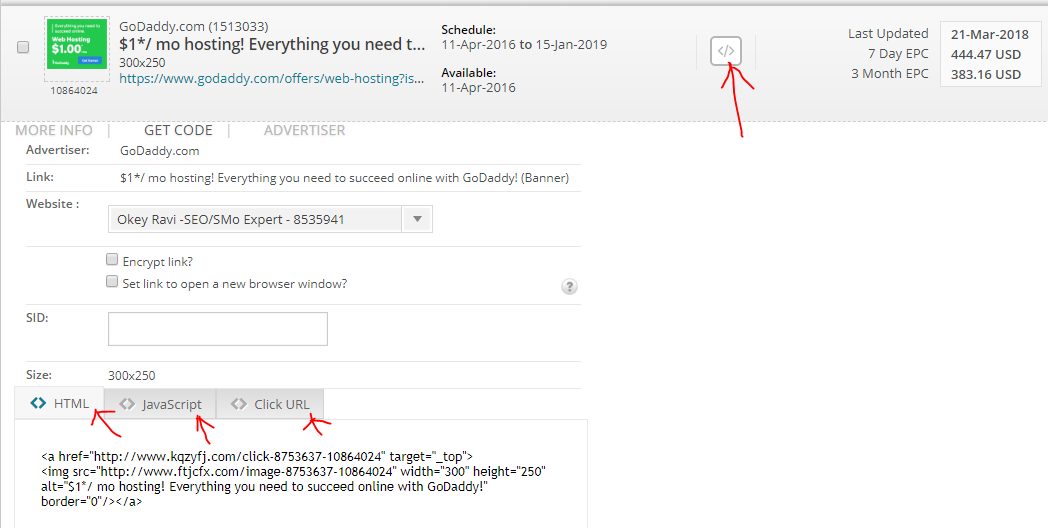 How much can you earn through GoDaddy Affiliate?
GoDaddy offers a 100% commission on almost all products and services.
There is no limit to the money that you can make as an affiliate with GoDaddy. The more sales you generate, the more you earn.
How GoDaddy will pay you?
Once you earn more than the minimum required commission threshold which is generally 50$, you receive your earnings by direct deposit or Cheque.
Your earnings are subject to tax deductions so make sure you provide the necessary details at the signup if you want to save tax.
GoDaddy offers its affiliate program through Commission Junction, so you must check their terms and conditions to find out about any extra charges involved.
Eligibility Criteria to become a GoDaddy Affiliate
Your website must not mislead people, promote illegal activities or showcase objectionable material such as profanity, racism, hatred, etc.
Apart from that, your website must meet any requisites set by the affiliate network you join.
How Can You promote Affiliate links?
There is a lot of online tools and ways available using that you can promote your affiliate links. Some of them are :
Promote ads and links on your website
Use Facebook pages and groups
Use Quora
Whatsapp Groups
Coupon websites
Email marketing
SMS and more
My 1000$ GoDaddy Affiliate program Earning Proof –
Just to motivate you I am sharing my last 2 month earning proof of GoDaddy Affiliate program. This will help you to know this program better.
So, I hope You have understood the entire process. Now Join Godaddy Affiliate program and enjoy the wonderful earning.
If you have any issues! Comment below.
Some QNA based On GoDaddy Affiliate Program and Commission Junction
1. Do I need to have a website to join GoDaddy Affiliate Marketing Program?
Yes, a website is necessary to join most of the hosting affiliate programs like GoDaddy. The chances of getting Approval by GoDaddy will be fast when you have a website which deals in Blog/Hosting/Domain/SEO or even in Coupons.
2. When will the money be released by Commission Junction?
Commission junction releases money on 20th of each month.
3. The purchase is completed but I have not got the commission, why?
Sometimes it takes some time to reflect the changes. If your commissions are not reflected in your account until next day. Contact GoDaddy affiliate or Commission Junction.
4. My CJ Account is disabled. What I can do next?
Yes, There will be some chances when you violate some CJ policy or GoDaddy policy by mistake then your CJ account might be deactivated. In these case you can create another CJ account or you can take Cj Support. They will help you with the right Choice.
5. What is the minimum threshold in GoDaddy Affiliate to get paid?
The minimum threshold is 50$. This is maintained by Commission Junction not by GoDaddy.
6. How do we get paid?
Once you reach your threshold then you will be paid by either Check or Wire transfer. You have to setup your payment details for that.
Good Luck!!!
If you have any query about GoDaddy Affiliate or Cj Affiliate then you can comment Below.
Read Next – What is Affiliate Link Cloaking in Affiliate marketing?