Money We Have Made in May 2020 | We Got Some Real Proofs :)
June 3, 2020
2020-12-16 11:39
Money We Have Made in May 2020 | We Got Some Real Proofs :)
Money We Have Made in May 2020 | We Got Some Real Proofs :)
Hi guys, we are starting a new series on our website. This is not to feel you down in any circumstances. After being in Online Marketing World since 2018, It is just a gentle try to give your dream a boost up that you also can make online income.
We have recently launched our courses and membership program for the benefit or real digital marketing players. You will get the knowledge of online marketing in detail and depth in that.
Let's see how much have we earned and what all sources were there for getting this income in May 2020.
Our Income in May 2020 from Different Sources
In general, we are Making Money Online with 7 sources. You can check the list of sources we have –
Digital Products – Themes and Plugins
Website Designing and SEO Services
Trading – Share Market
1. Earnings From Affiliate Marketing
You know being a blogger you should always look for multiple sources of income. Affiliate marketing is one of the best sources that I have to generate a good income on a monthly basis.
I have joined a lot of affiliate programs that mostly includes hosting and domain affiliates.
So, in May, we got a good income from A2 hosting affiliate program and other than that we have also got bonus income from Contabo, Namecheap and GoDaddy hosting plans through Commission junction.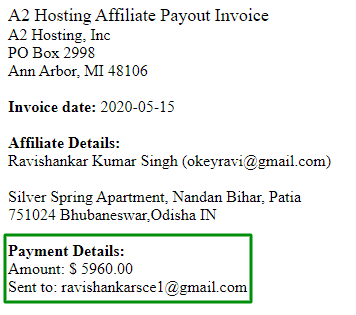 A few months back we have made 5-6 sales in ResellerClub Hosting and for that also the payout was made on May 15th.
So, here is the payout lists from Affiliate Marketing –
| Affiliate Program | Earnings in Dollars |
| --- | --- |
| A2 Hosting | $5960 |
| Commission Junction | $192.44 |
| Reseller Club | $150 |
Affiliate Payments
2. Earnings From Newly Launched Online Courses
As you might know that we have recently launched our four courses and that is performing very well.
35 people have already joined the courses in the last 10 days and that's why in May we have made INR 21,000 from the courses
We are trying to provide the best value to our course materials thinking that everybody can understand digital marketing in-depth. This is also one of the reasons that the people who have joined my courses are appreciating it too much.
You should not think about my earnings. You should think about joining the course. We are currently offering some good offers on our membership and courses so just grab it right now.
Because you are going to learn a lot of things and you will never regret for taking this course
Earnings proofs from Courses –
There are few earnings in Instamojo Payment also that we will show in products earning report.
3. Earnings From Digital Product Sellings
Some of you might know that we are having some digital products also like Sarkari Result WordPress bundle that has converted really very well in recent months.
Other than this we are having a dedicated website for themes and plugins. I mean to say GPL themes and plugins and that is also doing very well.
So, we are sharing the cumulative earning report for Digital Product selling from our websites.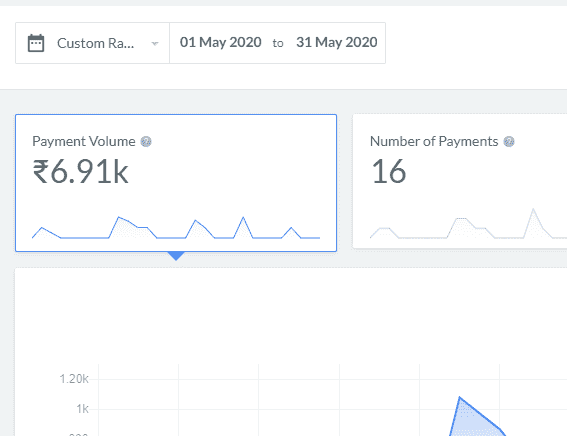 You must join Razorpay Payment medium if you are planning to sell digital goods and merchandise online. Smart payment links and Payment page creation are some good features.
Instamojo is also a very good option for digital product sellers. The important thing is you don't even need a website. you can create your own Instamojo store.
In total we have earned INR 32,540 from digital products selling.
3. Earnings From Web Designing Services
We are also providing SEO and web designing services. Due to course launching, we have not taken many projects in May. But, yes. overall we have made around INR 20,000 from some of my old SEO clients and few recent website designing orders.
4. Earnings From Online Personal Teaching
Just for your information we also provide personal coaching and assistance for digital marketing programs. Last month I have given personal digital Marketing training to Debashree Dash from Kolkata. She is really a good painter I can say.
You can check her website here – paintandpainting.com
From online personal training assistance I have earned INR 15,000 in May.
Now, this is really interesting. Yes, I do trading also. I have a Demat account from Zerodha. You can also join and give it a try.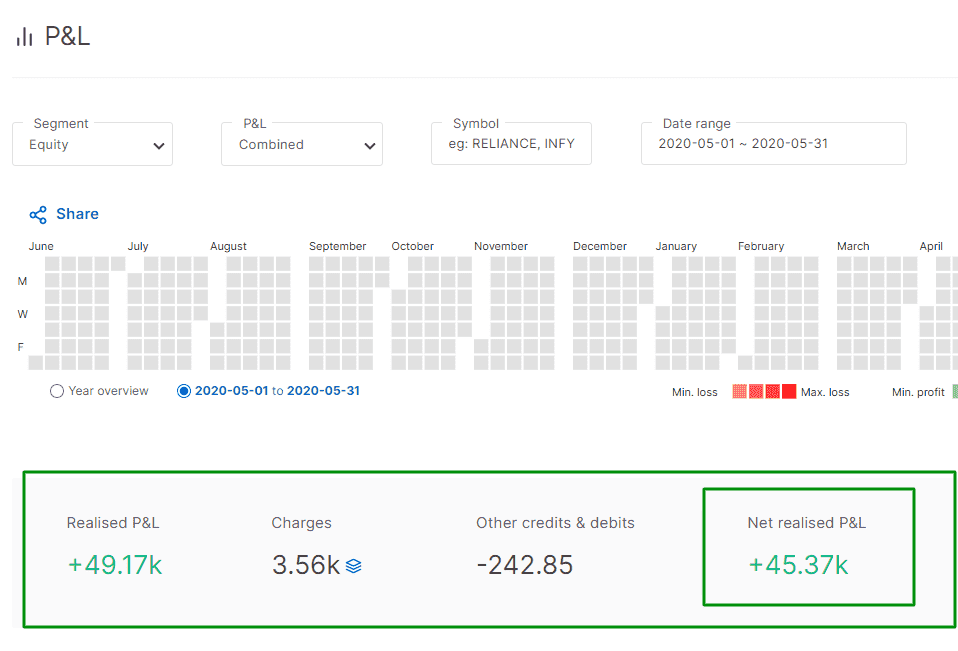 In total we have earned INR 45,370 from Share Market.
Few Good Expenses that can be Counted
Being in Digital Marketing, we also have to make some good investments depending on the approaches, tools, software and application we use on a daily basis.
We do have a good list of expense that I am going to add here. Some of them include Video Sharing Platform Vimeo, Sendinblue Email Marketing SMS Credit, Send App WhatsApp Marketing Tools, Free Hosting to promised people and own VPS Server expenses.
Few Important Points to Consider –
No AdSense Income – As you can see, we have not mentioned AdSense as our source of income. This is totally correct. We generally didn't get any payouts from AdSense. We will share once we will get any :).
Even on YouTube also you might have seen that we are not having sponsored or AdSense ads.
Conclusion –
I hope you might have enjoyed the different sources and strategy we have to make online earnings. You can also use most of them if you are comfortable with them.
As I earlier said the purpose of writing this post is to tell you how are we doing and how can you replicate the same Just be consistent and try to fulfil the client demands with right approach on right time.
Always focus on gaining practical knowledge and practice it on your own then only you will be able to understand it deeply.
Enjoy blogging. We will see next month with new updates.