A2 Hosting Affiliate Program Review 2020 – Are you looking for a good Hosting Affiliate Program to earn a better commission on each sale? Well, in today's article we are going to talk about A2 hosting affiliate program. A2 hosting gives minimum 85$ commission on each valid sale.
We will talk about A2 Hosting and A2 Hosting Affiliate Program in detail here.
A2 Hosting Affiliate Program Review 2020
If you join the A2 hosting affiliate program then you can earn up to $140 for every new customer through your affiliate link. Just tell your friends, family, website visitors and social media followers about A2 Hosting.
Your earnings can pile up fast. A2 has paid $500,000+ to their top affiliate last year!
The more you sell the more will you earn.. You can earn more for every sale based on the number of sales you deliver each month to A2.
Here are the commissions offered by A2 based on the number of sales you made –
1-10 sales: $85/sale
11-20 sales: $100/sale
21-30 sales: $120/sale
31+ sales: $140/sale (31 X $140=$4340!)
Do you think your site's traffic is worth more than $140/sale? You can Contact Your A2 Affiliate Manager and tell them why. They might be able to discuss an even larger commission rate just for you.
Isn't it amazing? I totally appreciate such efforts.
The A2 Hosting offers a bunch of web hosting services:
Shared Web Hosting
WordPress Hosting
Reseller Hosting
Virtual Private Server (VPS) Hosting (Managed & Unmanaged).
Cloud VPS Hosting.
Dedicated Server Hosting.
Email Hosting.
And more so you have a wide collection to promote.
A2 Hosting Affiliate program provides 90 days cookie life, which means any referral sales from your A2 Hosting Affiliate link after first visitor's click will entitle you with A2 Hosting affiliate commission.
In simple words, let's suppose you are looking for hosting and you got my affiliate link. You clicked on my affiliate link and you have not bought any hosting. But if you will buy the hosting on the same browser from A2 in 90 day period then I will get an affiliate commission for that sale.
As the cookies were saved when you clicked on my link for the first time.
The only condition in which I will not get any commission is you have deleted the cookies.
A2 Affiliate Commission Payout Review
If you are an affiliate programmer and you are earning through A2 Hosting affiliate program then to get the first payout you need to cross the 100$ threshold limit.
Once you cross the threshold then you will be eligible for payout on the 15th of the month.
For example – If you cross the threshold limit on 20th of September and you will get your affiliate payout on the 15th of November.
A2 Hosting Affiliate Second Tier Commission Review
The important thing I like about A2 Hosting is that they offer a second-tier commission feature in their affiliate program. So, if you can refer other affiliate marketers to join the A2 affiliate program then you will get $5 for every new customer they refer to A2 Hosting.
So, start referring now.
Benefits of joining the A2 Hosting Affiliate
Here are some of the top benefits of A2 hosting affiliate program –
​Custom Customer Welcome Email & Landing Page For Top Affiliates
Active & Responsive Affiliate Program Management
Real-Time Affiliate Stats
Long 90-Day Cookie Life
Monthly Payments on the 15th
A/B Tested Landing Pages
Triple Redundant Tracking
Easy-To-Use Post Affiliate Pro Control Panel
Deep Linking (Choose Where You Link)
High Conversion Rates & Customer Retention
A2 Hosting Affiliate Control Panel Review
The control panel offered by A2 is also amazing. They offer an excellent affiliate tracking software called iDevAffiliate. Even reseller club also offers the same but the dashboard of A2 is amazing. No bullshit like reseller Hosting Affiliate Dashboard.
The control panel is easy to use and offers a variety of option to manage and see your conversion reports.
How to Join the A2 Hosting Affiliate Program?
After looking at all the affiliate benefits and features of A2 Hosting, you must want to join the affiliate program of A2. Well, It's not a tough task.
You must have a website to join the A2 hosting affiliate program. If you don't have a website then you can contact us at WhatsApp number +91 6201083671. We will help you to create a website easily.
If you want any reference to creating a website step by step then you can refer our awesome article on how to start a blog/website step by step?
So, once you are ready with a website then follow the links and steps provided below to join the A2 hosting affiliate program.
Step 1. Open A2 affiliate program page
Open the A2 hosting affiliate page and click on "SIGNUP Now" button.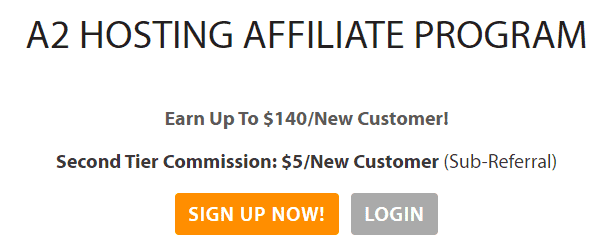 Step 2 – Fill out all necessary information
Now, you need to fill personal and additional information. Make sure to fill correct details. In case of any discrepancies, they will reject your application.
Once all the required information is filled then choose payout method as Paypal and provide your PayPal information i.e PayPal email for getting paid on time.
Note – A2 also offer wire transfers for payouts of $1000 or more. For this, you need to contact them through email to let them now that you want a wire transfer payout.
Once you have entered the correct information then just click privacy policy checkbox and on the "Sign up" button to get on the A2 dashboard.
It's very easy and convenient.
It generally takes 24-72 hours to get your A2 Hosting affiliate account approved and fully activated. You will get an email about the approval and disapproval of your application.
A2 Hosting Affiliate Program FAQ
What is the normal holding period to approve an A2 Hosting sale?
Well, A2 keeps a lock of 45 days on the sales. All the processes are automatic. You don't need to worry about anything. All the pending sales will be approved automatically on 45th day.
When A2 releases affiliate commissions?
A2 releases payout for their affiliate on the 15th of each month. Make sure you have reached the 100$ threshold to get paid on time.
Do we have to fill W8 tax form for payouts?
Well, yes. You do have to fill the tax form. It is not mentioned anywhere but once you will eligible for a payput then A2 will send you a list of tax forms including W8. You just have to fill them properly.
Sign it physically and send them a scanned copy. You need to do this before the first payout and this is just one-time work.
Some of my commissions are declined what could be the reason?
A2 has a strong affiliate tracking system. The main reasons we have seen for declining a sale is either the payment is not made or the customer has canceled the hosting within the 30 days cancellation period.

The final Verdict on A2 Hosting Affiliate Program
Especially, when it comes to web hosting affiliate programs then A2 is one of my favorite. Other than A2 I like Interserver, Siteground, Bluehost and Hostgator.
These all are amazing in their terms and affiliate payout commissions. Recently I wrote an article on how iPage hosting is completely a spam affiliate program.
I have made 425$ in two months from the A2 affiliate program and the overall experience is amazing.
Thanks for reading this post. If you have not joined the A2 Affiliate Program now the do join following the link provided below.
If you have any query or concerns then do comment below.
Have a good day!
How useful was this post?
Click on a star to rate it!
Average rating / 5. Vote count:
We are sorry that this post was not useful for you!
Let us improve this post!
Thanks for your feedback!
A2 Hosting Affiliate Program Review 2020 – Best & Genuine