Buy Expired Domains – 7 Things You need to Know
March 16, 2018
2018-03-16 15:10
Buy Expired Domains – 7 Things You need to Know
Buy Expired Domains – 7 Things You need to Know
Are you willing to Buy Expired Domains? Do You Know How to make a Website with Expired domains? People today especially newbies are getting in domain flipping business. they Buy domain which is expired and then they sell those at a good amount. You can easily make $1000 just by selling 10-15 high DA, PA domains.
So, Let's see How this process Works and What are the factors which you to keep in mind while You are buying an expired domain?
There is no doubt in this that Domain flipping Toady is very Profitable Business. Sometimes a person can make millions just by selling one premium domain. you might have seen domain which is premium and has a price in millions.
So If you are looking to enter into domain flipping business, then You have to keep these 7 important factors in your mind.
What is Domain Flipping?
Domain flipping is a business where people sell domains. In most of the case, people sell expired domains. Domains which have high DA(Domain Authority) PA (Page Authority) Moz rank, high no of good backlinks, No spamming issues are sold generally at higher prices.
What is an Expired Domain?
An expired domain is a domain which doesn't get renew on time. For example, I am using okeyravi.com and It has renewed time. So, If I don't renew my domain on time then this domain will be expired.
There are many people who don't renew their domain due to different reasons listed below –
No need for Extension
They don't want to continue
Domain use Purpose completed
Can't afford to renew price
Banned By Google
Banned By Adsense
So, Domain registrar gives 30 days domain extension notice, If the domain is not extended. It will be declared Expired and ready to be sold again. Now the domain registrars will bid on that domain.
The bidding process will expire in 7 days and the higher bidder can grab that domain very easily. good Luck!
How Can Expired Domains be used?
Do You Know Expired domain is a great property to do many valuable things? I am sharing those below. have a look at them.
1. 301 Redirects
If you want to pass all link juices of that expired domain to your domain then this is really a good idea to increase your blog traffic. Let's say the domain you have bought have good backlinks from top sites Like Microsoft, Forbes and many more.
Then you just need to redirect that domain to your website and see the improvement in your website on SERP's.
2. Build Authority Site On That Domain
You Know, if You build an Authority Site on the expired domain You have purchased then It will be very beneficial for you. It will be good for you in terms of ranking as well as in terms of Money generation.
If you have an expired domain with High DA, PA and Have some good no of High-Quality backlinks then You can make awesome money in less effort. you don't have to pay extra money to get high-quality backlinks.
Please make sure it doesn't mean t that you don't have to generate links. this Process will work for you, but not for a long time. You have to update your site regularly and you need to try for better backlinks to be o the position for a long time.
You can say this is just because Google is changing Its algorithms very frequently these days.
3. Private Blog Networks
Today People are making their own private Blog networks to trick Google. This method is useful but It is not acceptable. To rank high People are using their own set of Private blog Networks to get Good backlinks.
So, you can use those bought Expired domains to Make a PBN and Link back to Your Money Site.
Read Now – PBN Backlinks, Are PBN Safe? How to Build PBN?
Things to Consider Before Buying Expired Domains
Friends you have to keep these things In Mind while you are buying an expired domain. Today People are selling Domains, But they will not give you the exact details. They are hiding a lot of necessary details. So, if You are trying to buy expired domain then always ask for the below-mentioned details.
if you are buying from a website then look for the details I have specified.
1. Always Check DA and PA
Tons of Domain were bought and expired on daily basis. You Can check Those expired domains on websites like Moonsy, Expired Domain, PR Drop and there are many other sites from where you can find expired/deleted domains.
DA (Domain Authority) and PA (Page Authority) are important factors to derive quality of any expired domain or live website. DA and PA were introduced by Moz and you can check them on Open Site Explorer.
If You want to buy expire domains then always strive for DA and PA 25+ if Possible.
2. Must Perform Google Adsense Ban Check
if you are searching for Expired domains then you can also find thousands of domain which are banned by Google.So, if you are planning to buy expired domains then Adsense banned check will be your first priority.
If you want to make that expired domain an authority site then there must be Adsense enabled. Because of the end of the day, you need money from your blog. But just to take the link juice you can ignore this step.
You can use tools like AdSense Sandbox Checker to check the domain is banned By Adsense or not
Simply put URL and click on preview Ads.
If all the ads are being displayed, then you are in a safe zone, otherwise, it is banned.
3. Check Domain with Google banned Checker
You may find a high PA, DA and very good-looking domain but this is of no use if Google has already banned it from search engines.
Check domain with Google banned checker and make sure it is not banned.
Note: If the domain is too good and you want to buy it in any case, even if it is banned, then you can use Google reconsideration request and request them for un-banning the domain.
4. Check Website Archive
You might be aware of above-mentioned things but this one is new and needs to know before buying expired domains.
If you are buying an expired domain and want to see which type of website was running before it expired, then simply go to Archive and put your domain URL there.
Once You Enter an Url then You Will see a Screenshot like this –
This is just a timeline graph which will show you how the sit look in any convenient year.
You can click on circled numbers for the month and you will be able to see a live website of that time. Isn't it Amazing?
5. Check Chinese backlinks
As I have told you on a daily basis thousands of domains die. But Do you know 30% of them are spammed with  Chinese backlinks?
You can check this with the help of aHref.
Just enter the domain and check the backlinks. It will look like this. If you found backlinks in different languages. you just need to avoid that expired domain.
6. Check Domain Age
Domain Age is also an Important factor Which You need to keep In Mind while you are starving to buy expired domains.
There is a lot of Tools available on the Internet to check Domain Age. Old domains with low soam score are better.
7. Check No of backlinks/ Backlinks from .edu and Gov sites
You can use a tool like Ahref to know all the details about a relevant Expired domain. These are mentioned below –
No. of backlinks
Backlinks from .edu and.Gov Sites
No. of Referring  IP's
No. of Indexed pages
See the screenshot of My Website. It will help You to Understand the process Completely.
Read Now – PBN Backlinks! Are they Safe?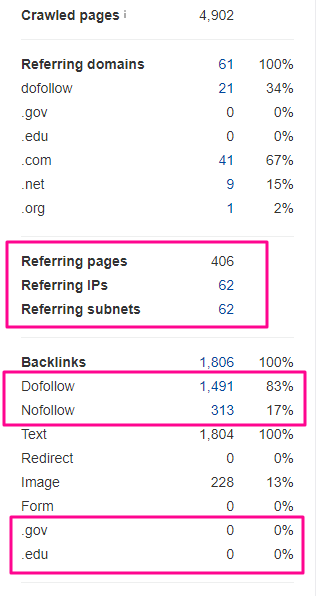 Where to Buy Expired Domains?
If you want to buy expired domains then these sites will be helpful to you. See the list of sites from Where You can get Expired domains –
Wrapping Up
I think Now You have understood the factors which you need to consider before Buying an expired domain. if you Keep all these factors in mind then You will grab a best-expired domain for yourself.
Domain Auction Process Infographs

(Source)