How to perform image SEO? 15 Rank booster image SEO tips
December 11, 2018
2019-05-11 23:26
How to perform image SEO? 15 Rank booster image SEO tips
How to perform image SEO? 15 Rank booster image SEO tips
When we talk about SEO, mostly we think about on-page SEO and off-page SEO techniques. But you can't overlook image SEO best practices if you really wanna compete with your competitors
Image SEO is an important tool in this visual-centric internet world. Whenever you write content for your website. You have to follow all the best practices of image SEO which I have described below.
Let's see, why image SEO is so much important? We will also discuss how image SEO will boost your SERP's ranking?
Top 13 image SEO best practices you should follow
1. Always use at least one image in your posts and pages
Adding an image to your web-page or blog post adds an additional value to your on-page SEO. Obviously, you don't want a low SEO score. Who wants?
But to boost it up you have to strive for a good quality image. Add an image that's add value to your content.
People use infographics to give their content a visual form which is better for both on-page and off-page SEO. An info-graph helps in getting some good backlinks as well.
Read Now– 105 ways to get high-quality backlinks
Even Google also acknowledge the significance of image SEO and have always published image optimization techniques on their guidelines for image publishing.
So, now the question is- Is it only required to add an image?
That's it!
Of course no. Then what? You should look yourself.
2. Strive for Unique Images
On okeyravi.com every images is created by us only. You can't find any copyrighted image.
So, you should take your time to supply out images that illustrate the topic with minute detail, humor and even romance sometimes. It should be so unique and enrich with information that people love to share.
You know it will also help you to get traffic from Pinterest, if you pin images properly.
It will definitely depart an impression if you share information with images also on you blog posts. You know sometimes people even looking at the image only imagines the content.
3. Use high quality images in your content
Search engines like Google and Bing always desire high-resolution images and quality content.
You can use .png, .jpeg and .gif images which are low in size and high in quality. Websites like canva.com will help you to create unique images for your almost every need
You can create blog banners, blog header, FB cover, FB post, Twitter post, infographics, Youtube Channel art, Logo and more. Even you can edit a snapped image.
Read Also – Creating professional YouTube thumbnail using Canva
Personally, If you ask my recommendation then I use
Lightshot (screenshot tool) chrome extension to snap and edit any image in minutes while creating a content.
4. Find the right image
Along with the unique and high-quality images you should also strive for right image for your content. Images clicked by yourself is the better option to get it.
I will never suggest you to go with the stock images. You know, everybody is using that. So, what's different in your image from them other than some text and graphics. If you are able to answer this. Mind it, I guarantee your image choice is right.
Add images which are relevant to the subject not just for getting a green signal in Yoast SEO plugin content analysis.
Note: Try to place the image near to the relevant text. If you have an image which you want to rank then keep that in the top of the content part. I will focus on what you can do more later in this article.
5. Image file name can't be ignored
Have you searched an image on Google? This is really a stupid question and I know your answer will be who don't?
Of course, everybody on the web has searched for some images while they surf the internet. It could be a Christmas wish image or a happy new year image with some quotes on it.
If you want google should recognize your image properly then it starts from image name. Everybody knows you by your name, not by your doggy name. right?
So, Image SEO begins with giving an accurate name to your image. Best practice of giving an image name is "use key phrase in it".
For example, a sunrise image of Japan should be named "Sunrise in Japan" not like japansun.jpeg or DSCMp01.jpeg. Sunrise in Japan is also a good key phrase for the searches like sunrise pictures or sunrise scenes of Japan.
6. Image Scaling also matters
Loading time of website is always a concern for most of the bloggers. It is something which have very high impact on visitor interest, website SEO and even on SERP's ranking.
This is something which can't be ignored. I have created and done SEO on many websites and what I found is also amazing. In most of the cases, the loading speed was high due to un-scaled and high-resolution images
So, when you have to show a 300*250 size of a 2040*1950 sized images. Better, you should upload a scaled version of that image in the required scale. It will reduce your page size which ultimately results in high page speed and good SEO.
To scale an image for better image SEO you don't even need any other tool. WordPress itself provides good options for image scaling.
If you are using Gutenberg WordPress Editor then scaling is now more easier than ever.
But unfortunately it will not reduce the file size. Oh hell, It should.
7. Reducing image size will skyrocket your On-Page SEO
The next step in image SEO should be to make sure that scaled image is compressed so it can be served in the smallest file size possible.
Of course, you can experiment with the image to get the best-reduced size. But the quality of the image also matters. Don't go for high compression. which destroy the picture details.
I will suggest tools like ImageOptim or websites like compressjpeg.com and compresspng.com for the proper optimization of image size.
Pro Tip -When you've optimized your images, test your site with tools like Google PageSpeed Insights, WebPageTest.org or Pingdom. See and analyse the results after that. Result will be amazing. I bet.
Image captioning is an integral part of Image SEO best practices. You have to give proper image caption when ever required.
For them who don't know what an image caption is 'It is the text which is visible below the image.'
If you look at the images in this article, it's the text in the gray box below each one. Which are captions important for image SEO?
WordPress provides options for image filename, image caption, image description and image alt text. You don't have to miss any of the field provided.
People love to see the image captions. it gives them a real idea of the image and article both. So, if you are not using a caption the start using it. It will increase your audience engagement time.
9. Image Alternate text -Higher Impact on Image SEO
You can avoid giving an image caption, even image description also sometimes. But Image alt text can't be avoided. It is something which you have to give all the time.
If you check your SEO score you can find one thing very easily and that is "some of the images on this page missing alt text."
Here is an example image of missing alt text from Okey Ravi Ahref report.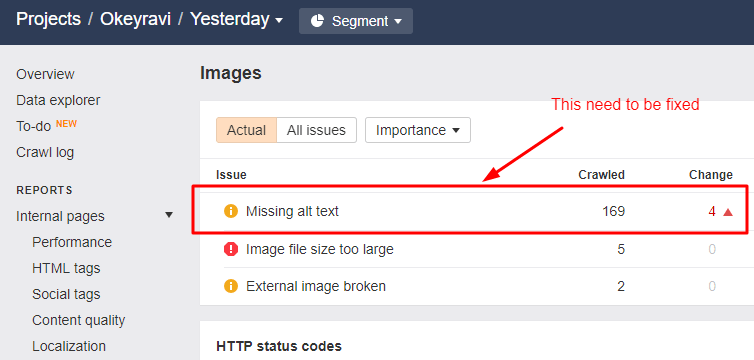 So, Be sure to add alt text to every image you use, and make sure the alt text includes the SEO keyword for that page (if appropriate).
Most importantly, describe what's in the image so both search engines and people can make sense of it. Adding relevant information around an image will help you to get traffic, backlinks and leads from image search as well.
10. Don't forget the image description
Image description, image title and image alt text plays an important role in image search. So, adding a description to the image adds an additional value in the image SEO.
You should always try to give an image description also. It is not mandatory to use the main key phrase in the image description. But if it's relevant and fits the need then you can use them.
Read Also – 7 common SEO mistakes you should avoid
10. Image Alignment
Image alignment is not so much important from Image SEO perspective. But, yes, when you talk about the overall look and feel of your web pages and article then it is mandatory to align your images properly.
11. Image Sitemap Submission in Search Console
Like the way, you submit sitemaps for posts, category and pages. It is also mandatory to submit your images to search engine webmasters if you want to rank and index them.
Mostly in the case of image website like photography, icons, status and quotes this step is fairly important.
If you are a WordPress user then Yoast Seo plugin will automatically create sitemaps for posts, pages, categories, images and even for author and templates also. So, you don't need to worry about anything just submit your image sitemap to Search console.
Rest Google will look upon. You can find your website sitemap at domainname.com/sitemap.xml like http://okeyravi.com/sitemap.xml
If you are not a WordPress user and then you can create your sitemap easily via Pro-Sitemap.
Read Also– Creating XML sitemap for non-wordpress websites
12. OpenGraph and twitter cards
You have options to use customized and different images for sharing on Facebook and twitter. Yoast SEO provides these options.
When you write good articles then people love to share those articles on social media. You can ensure that the images you have provided in the featured image or in the facebook and twitter section (refer the below image) in Yoast should appear always when people share your content.
This can be done by HTML code set up for OpenGraph (OG) and Twitter Cards (found in the Yoast plugin in WordPress).
For OG tags, you can set the image you want within WordPress, but also create your own meta property in HTML. Just add the tag provided below in your <head> section.
<meta property="og:image"content="https://example.com/image-seo.jpg"/>
Twitter cards play the same role when the URL is shared on Twitter, generating clicks and driving leads and sales. The markup for Twitter cards works similarly to Open Graph.
I know, setting this aspect it little cozy but it is for your blog betterment and social boosting.
13. Adding the main keyword on the featured image
This is also a best practice for Image SEO and On-page SEO. If you are creating your post or page featured image then you can use the main keyword on that.
Like if you see the featured images of our articles then you can easily see that we have tried adding either main keyword or keyword related words on that.
Image SEO Summary – Okey Ravi's View
Image SEO is a collection of some predefined steps. You only have to implement those steps when you write a blog post or create a web page.
The primary motive should always be "Every image on a website will be optimized properly.' It always makes sense to ensure that image should provide a good user experience and add proper value to the content.
Follow these best practices for better Image Optimization and Image SEO –
Use the right image that matches the content context
Ensure the right image file name. Add the main keyphrase if required
Make sure image dimensions match the image size as displayed
Use responsive images. (Auto done by wordpress, but your theme should also be responsive)
Always use an optimal file size without losing quality
Add a caption, if appropriate, for easier scanning of the page
Try to add image description if possible
Use image alt text. Add the main keyphrase in the image alt text if required
Add OpenGraph and Twitter Card tags for the image
Align your images properly. Don't break the left reading line with an image
Create and submit image sitemap to search engine webmasters
Try to add main keyword on the featured image
Provide all the context you can!
If you liked this article, then please subscribe to our YouTube Channel for WordPress, SEO, Affiliate marketing and AdSense video tutorials. You can also find us on Twitter and join our Digital marketing hacks Facebook group.
If you have any query, suggestions or appreciations, Feel free to comment below.