650K Backlinks In Just 2 days! Disavow Negative Backlinks Succeed?
December 9, 2018
2018-12-28 0:11
650K Backlinks In Just 2 days! Disavow Negative Backlinks Succeed?
650K Backlinks In Just 2 days! Disavow Negative Backlinks Succeed?
Do you know? People always go for getting high-quality backlinks when they do Off-page SEO for their website and blogs. I am not habitual to do off-page. For me, gradual backlinks increase is something which is done by my lovers and by them who like and share my content.
But, In the last 5-7 days. I have got tons of backlinks. You don't believe how much? Just in two days, I have got more than 650K+ backlinks. Such a sudden increase in no of backlinks for okeyravi.com
How is it possible? Are they real backlinks? Who is creating this and for what purpose? Do anyone doing negative backlinking on my website? How this gradual increase in the backlinks number will affect my blog.
Like tons of backlinks, I have also a lot of questions diving in to my mind. So, let's take it seriously and see how much it can affect?
How I got 650K backlinks in just two days?
To verify it I have gone to Ahref overview and then the things I found there was really bullshit.
All those backlinks was created from just two Indonesian sites. Those two sites are really worse. They don't have any foundation.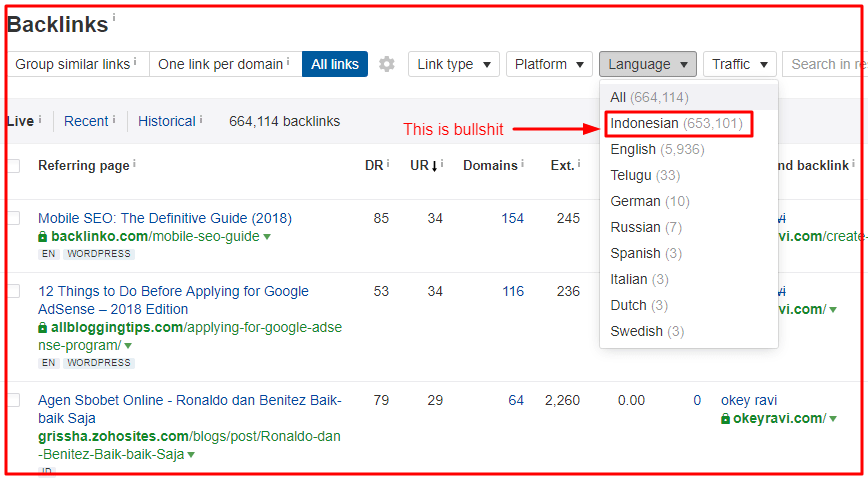 They are null in DA (Domain Authority), PA (Page Authority) and UR (URL rating).
It simply means these backlinks are of no use. Getting tons of backlinks is not a case which happens daily. For bigger sites like MI.com, Micrososft.com, Apple.com it could be possible when they launch a new product. this is just a general example.
But, for a normal site. It will be beneficial only in the case, it came from unique sites having high DA, PA and other high quality backlink stuffs.
Now I understood that this is something which is not created by a human. These backlinks are created by some bots.
These are not the backlinks you look for. Always strive for the natural backlinks from authority sites.
What really matters is quality not quantity of backlinks? But In my case it is the quantity there is no quality.
Have a look at the backlinks bar. It is like touching the sky from the historical data.
How this gradual backlinks increase will affect okeyravi.com?
I already have discussed earlier, if you get backlinks from unique and high authority sites. it will always boost your site SEO and Search engine rankings.
It doesn't have negative impact if done in a proper way. Not like tons in a day and hundreds in others. I hope you get it. right?
This time this is not the case, the site from which I have got backlinks is not an authority site. They are also not a high-quality domain.
This will ruin my site SEO. It will have an adverse effect on my website. You know Google penguin update. If it finds such gradual backlinks increase in a website. It will flag that site.
And, if it happens. It will be a bad news for my blogging history.
You know "no one enjoys being penalized in any way".
So, you always have to ensure your website stay on Google's good side. read more about Google Penguin update here.
In my case, my main task should be disaow these link. Otherwise it will create a lot of trouble for me.
How to disavow negative backlinks?
If you want to disavow those negative links. it can be done in following ways. I am doing it with the help of Ahref. You can do it with the help of other online tools also like Semrush or Google disavow tool.
You can find disavow link just below the backlinks in Ahref. Refer the image below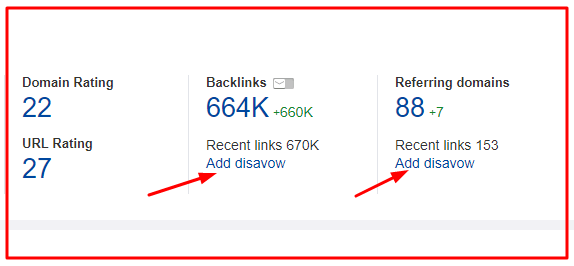 Now you have to submit the link either manually or you can submit the list as well. Here list in the sense .txt file.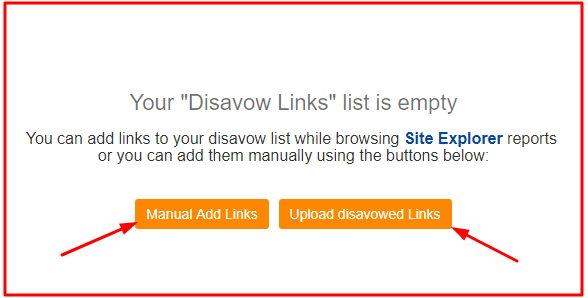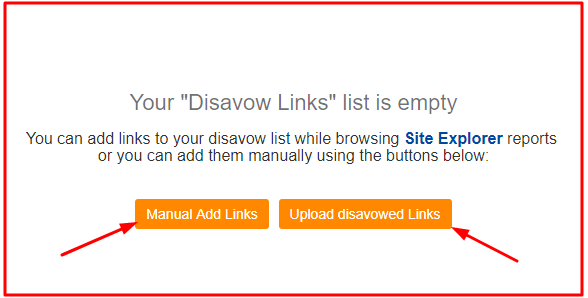 Here, I am going to do manual addition of links. You have have the links to add it manually. You can get those links from your backlinks list of Ahref. Just export backlinks fro those websites only which you want to disavow.
If you have tons of backlinks from a single site then you can simply disavow the domain.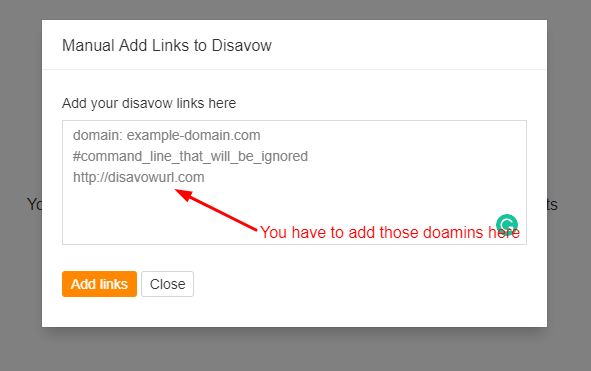 Here is a snapshot of the website which is responsible for gradual backlinks increase.
Adding Disavow Links to Google
This is a very important step if you don't want google to penalize your site. You have to add those all links to Google Disavow tool.
I have mentioned it step by step below. Have a look and do the same if you get in to situations like this.
Open Google Disavow Link
Choose the domain for which you want to add disavow links
Now you have to submit a .txt with all the links which you want to disavow.
Once you uploaded the .txt file then click on submit.
You are done with the process. Google will take care of rest
Now the question is How will you create such a text file?
This is very simple. This can be done in two ways. If you have Ahref then you can export your disavow links to submit that to Google disavow.

Creating disavow text file using Notepad
If you don't have Ahref access, then you can create disavow links text file using notepad.
What you need to do is just add all you links line by line in notepad file without any space or comma.
Save the notepad file as disavow_links.txt
One you created such a file you already know how to submit? I have discussed the submission process in earlier in this article. After submission, you will get the successful submission message.
Wrapping It up – Okey Ravi's View
You know, we all need backlinks if we have to compete with our competitors after a certain level. Please mind it I said "After a certain level"
Not in all the case backlinks creation is required. Just update your website regularly, produce good and unique content. Try to build your own audience and brand image.
Be socially active and do on-page SEO properly. You will see the results very soon.
About gradual increase in negative backlinks or spammy backlinks you have to be aware.
Please use Ahref and monitor your referring domain and backlinks count on a regular basis. If you find something wrong use google disavow tool to be safe from flagging and penalization.
Always look for the natural backlinks.
My spammy links have been disavowed
As you have seen that I have disavowed both the domain which have created spammy backlinks for my site. It has taken up to two weeks to disavow all the negative backlinks. You can see the staus of disavowed links by SemRush tool

You would love to read our recent blogs-
If you liked this article, then please subscribe to our YouTube Channel for WordPress, SEO, Affiliate marketing and AdSense video tutorials. You can also find us on Twitter and join our Digital marketing hacks Facebook group.
If you have any query or suggestion. Feel free to get back to us.