How to get Free SSL/TLS Certificates for Websites
January 21, 2018
2018-01-21 9:16
How to get Free SSL/TLS Certificates for Websites
How to get Free SSL/TLS Certificates for Websites
Security (SSL/TLS) is important for any website/blog to build the trust and to get the high ranking in Search Engines.So, I am sharing "How to get Free SSL/TLS Certificates for Websites" with you. SSL is compulsory for every website especially for Transactional and membership-based, where you perform an online transaction and you maintain the user data.
Getting an SSL means adding https to your Web URL and Adding https means boosting your website ranking and building the customer and visitors interest.
Read Also:
Best tips for selecting a perfect domain name.
How to choose cheap and best Hosting Service?
How to Find Your Website is trusted or not?
You must have visited some of the blogs and websites on the internet where the browser gives you a message that "this website is not trusted/secure". You can clearly see a red color Secure mark embedded with the URL.
Here is the screenshot of a website. You can see the connection is not secure and you have to provide and give special permissions to the website i.e Proceed Anyway option.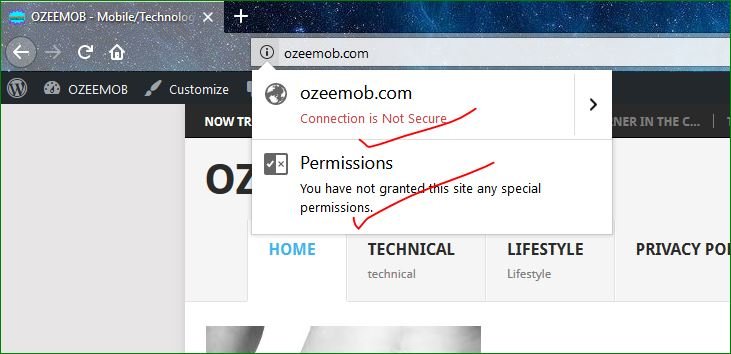 So, you can understand easily the importance of an SSL Certificate. I Know You don't want to visit a website not having a secure connection or https.
So, If you are looking for adding SSL to your Website or Blog without spending a single penny or dollars then here is some Certificate Authority Houses (Free SSL Providers) you can opt.
Pro TIP– If you are looking for Cheap Hosting and very Cheap SSL then You can Try NameCheap. Namecheap will provide you Free Postive SSL Certificates in just 1$ for three domains and 50 subdomains. Isn't a great deal? Have a look.
Why enable HTTPs on every web page?
Failure to adopt HTTPS across your entire site could impact public perception of your website and lead to lost consumer confidence and online conversions.
Leading search engines like Google offer SEO perks to HTTPS pages over identical HTTP versions.
Visitors can verify you are a registered business and that you own the domain.
Visitors trust your site because they can see data they submit is encrypted and cannot be intercepted.
Customers are more likely to trust and complete purchases from your site.
To encrypt and authenticate sensitive information from your website to your server.
How to get Free SSL/TLS Certificates for Websites?
Before Moving to the Free SSL Provider. Le's have a look at these acronyms which I am going to use further in this article.
SSL – Security Socket Layer
TLS – Transport Layer Security
CDN -Content Delivery Network
DV – Domain Validated
ACME – Automated Certificate Management Authority
CA– Certificate Authority
These are the Free SSL providers. I will suggest you to read their terms and conditions and renewal process before implementing.
1. Let's Encrypt
Let's Encrypt is a free, automated, and open certificate authority brought to you by the non-profit Internet Security Research Group (ISRG). It's a collaborative Project with Linux Foundation and new certificate authority sponsored by Mozilla, SiteGround, Cisco, Facebook, Akamai etc. which offers Free SSL Certificates.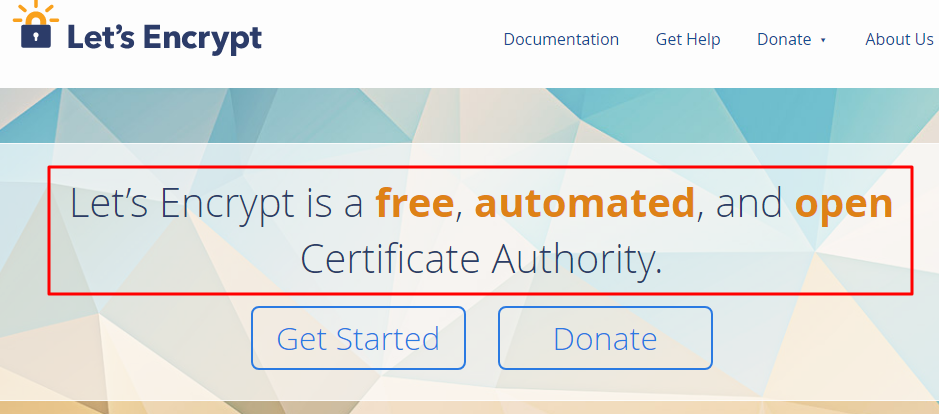 Let's encrypt is automated, It means You don't have to spend your time in Creating CSR and send to CA  Authority to get it signed. These things will auto happens in the background at Server Level.
2. SSL For Free
SSL For Free uses Let's Encrypt ACME Server Protocol by using domain validation to provide you a free SSL Certificate. It is 100% free and Certificates are provided within minutes.
Here, You have to generate CSR and you have to paste it into Your CPanel. You have to renew Your SSL certificates after 3 months here.
As SSL Fore Free Says – For modern browsers, we generate a private key in your browser using the Web Cryptography API and the private key is never transmitted. The private key also gets deleted from your browser after the certificate is generated.
If your browser does not support the Web Cryptography API then the keys will be generated on the server using the latest version of OpenSSL and outputted over SSL and never stored.
For the best security, you are recommended to use a supported browser for client generation. You can also provide your own CSR when using manual verification in which case the private key is handled completely on your end.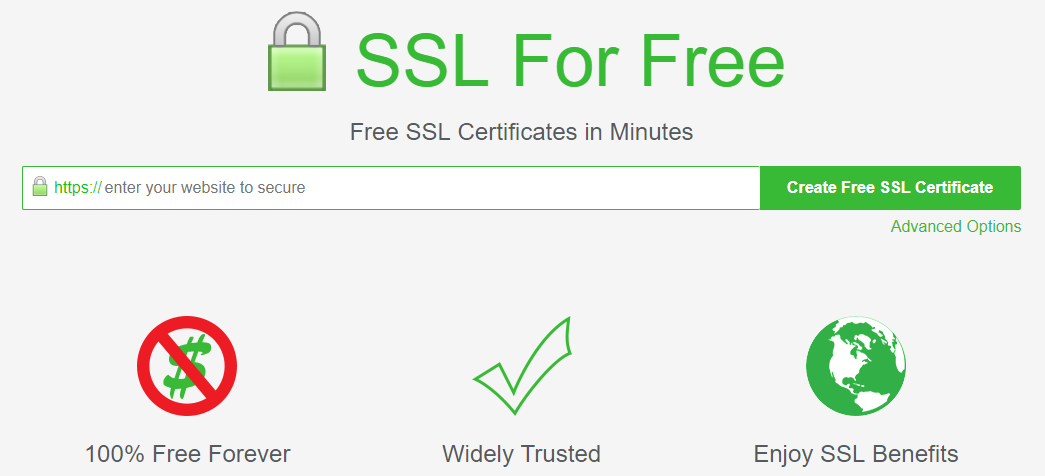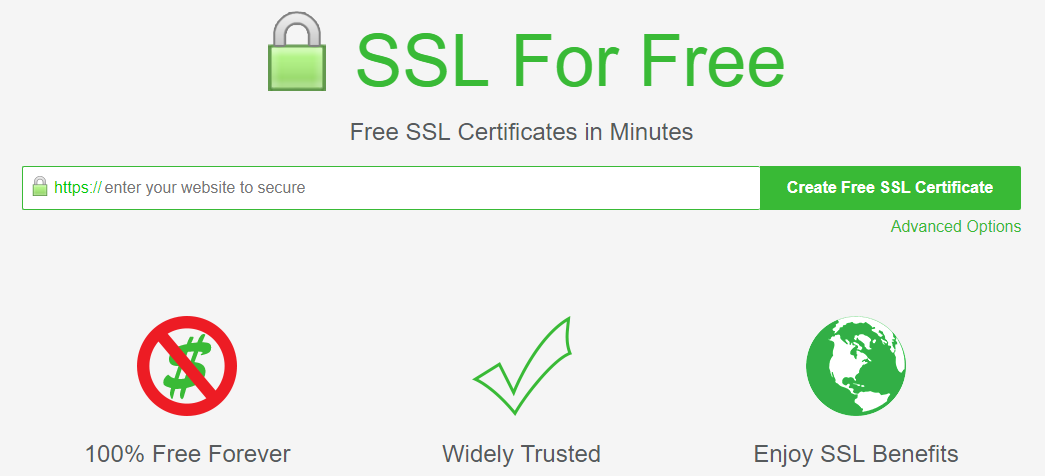 3. Comodo
Comodo, the leading SSL Provider offers Free Antivirus, Internet Security, Firewall, Endpoint Security and other PC Security software for Windows & all OS.
It will also provide you Free SSL Certificates for 90 days only after that you can renew your service. It will provide you SSL certificates in minutes with the highest strength and 128-bit encryption.
Pro Update: SSL.com also provides Free SSL for 90 day
4. CloudFlare
Many Popular Website s like Reddit, Yelp, Mozilla, StackOverflow etc is powered by CloudFlare. They make your website faster and secure.
Setting Up CloudFlare is Very Easy. Watch this video.
To activate SSL using CloudFlare use the steps provided- 
Login To Cloud Flare
Select The website you want to enable SSL
Click on Crypto Icon
Ensure it is configured as "flexible" and the status shows as "Active Certificate"
It might take few minutes to go live. You can ensure your https later.
5. WoSign
If you need Free SSL/TLS Certificate for a long time the WoSign is the best option for you. It will provide you Free SSL certificate for 2 years at zero cost.
It supports SHA2 Algorithms. Sometimes it is also called WoTrus. At the time of Writing when I have tried WoSign Free SSL then I got this message. I hope it will be fixed soon.

6. InstantSSl
InstantSSL will also provide you free SSL Certificates for 90 days. Certificates are issued in Minutes and with the Free SSL certificate, you will also get a trusted sign by InstantSSL.
InstantSSL will also provide you a 256-bit encryption to protect your data more securely.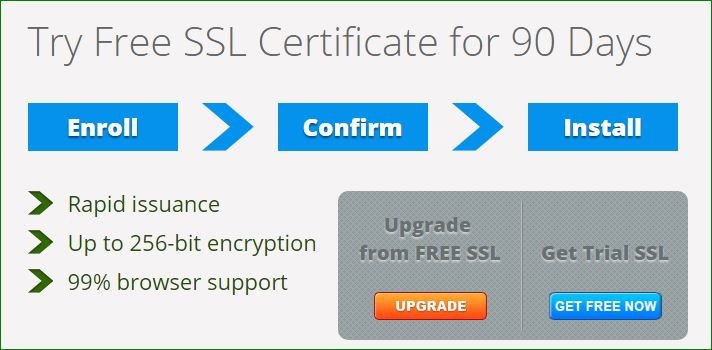 7. Premium SSL Providers for 30 days only
Here is the list of some other Premium SSL Providers who will provide you SSL/Tls for 30 days only then again you have to renew the service by paying a little amount.
Wrapping Up Here

–
I will not suggest you to opt any of the above free SSL certificate. There is a lot of trusted SSL provider which will provide you SSL n very low cost. I will suggest you to purchase Hosting+SSl together.
Here is the List of Best Hosting+SSl provider. Personally, I will recommend Namecheap it is cheap and best for a beginner.
[table id=18 /]
If You have any query you can comment below.
Read Also: How to use Infolinks + Adsense together?