JOB Portal SEO Best Practices | Perform SEO of a Job Website
September 14, 2019
2020-12-16 10:27
JOB Portal SEO Best Practices | Perform SEO of a Job Website
JOB Portal SEO Best Practices | Perform SEO of a Job Website
SEO of a Job Website and SEO of Job Portal like Sarkari Result – Do you want to know how can we perform SEO of a job portal like Sarkari result or joblelo.net?
Well, our intention is the same to teach you all about what should we follow when we do SEO of a job website.
We have talked a lot about the SEO of a website in our previous articles. You can read about those SEO articles here.
Recently, we have published an article on how to create a website like Sarkari Result in WordPress which was very successful. People have also bought Sarkari Result WordPress Theme Bundle which we have created for creating a job portal purpose.
So, before reading this post. I am assuming that you will be having a WordPress website for jobs. If you don't have then you can follow this post – How to create a WordPress website step by step?
Let's see what are the things which you need to follow to perform SEO of a job website.
How to do SEO of a Job Website?
You might have heard about Google for jobs or Gooogle Job Board. You need to rank your job post on Google Job Board. Every time when people search for jobs for their particular location your job post should appear in the Google job listing.
Optimize You Job Website SEO for Google for Jobs
To get your job post listed on Google job Board, there are few things which you need to cover on. We will talk about this later in this article.
As an example, you can see the job search result on Google Job Board for keyword " Delhi high court driver vacancy ". It's coming on the first position for joblelo.net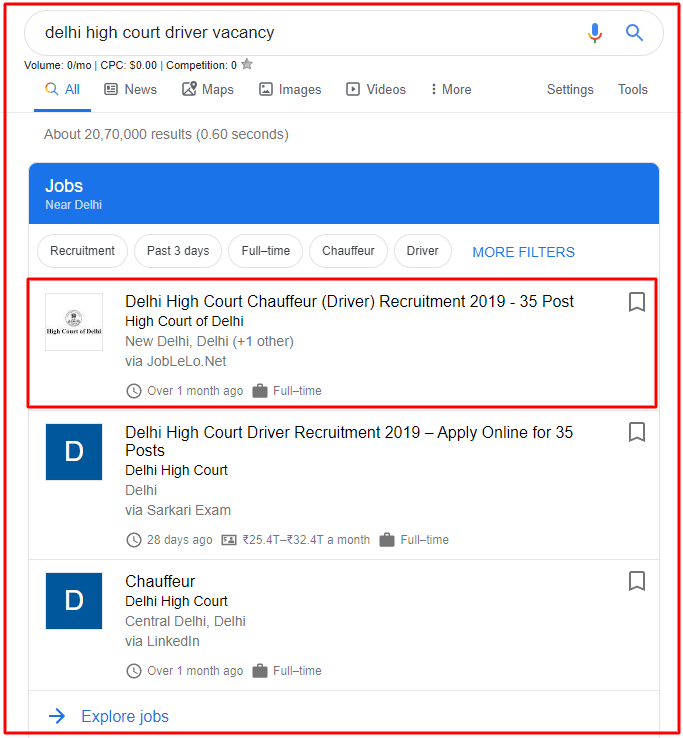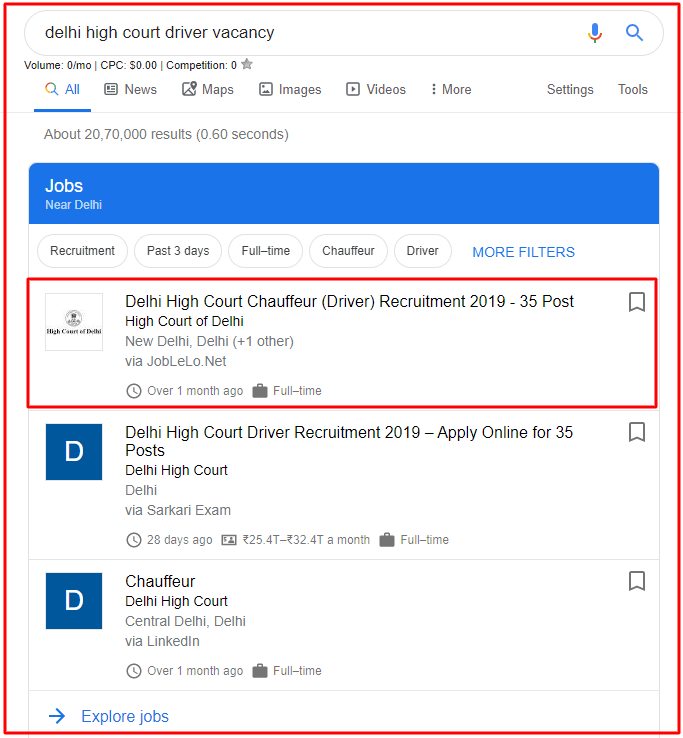 Do On-Page SEO of your Job Posts
When you write a job post for your website then you need to perform On-page SEO for that first. To perform on-page SEO for your job post you need to follow all these on-page SEO tricks which we have described in our Youtube Adnavced SEO Tutorial.
Let suppose you are writing a post on "SBI Specialist Officer Recruitment" which is your keyword for that post also then placement of keywords matters while you are performing on-page SEO for your job website.
So, read the post recommended below to know what are the on-page SEO strategies which you need to follow while you are writing a job post on your job Portal.
Recommended – Top 30 On-Page SEO Checklist
Talk About the Job Salary
Salary is a very important factor when it comes to the job listing and job Website SEO. Even in my college days along with the job position offered, eligibility, age limit and other things, I also used to look for the Salary offered by the company or the government.
And, I know this will be the case with you as well. That is the prime reason we need to talk about the salary of a job in our job posts.
Keep these factor in mind for Job Posts SEO –
Make a Salary Section and talk about the Salary of the vacancies
If you are posting about multiple jobs then make a table of them with their respective salary.
Must add a high level heading with a Salary keyword. In simple form (Main keyword+salary) as a heading for better impact.
Add Salary Range, Salary Currency and Salary Payroll for the job in the Job meta snippets. This is most recommended for Job website SEO and Google Job Board listing.

Be Specific About the Job Location
When it comes to Job Search then location also plays an important role. You know Keywords like –
Jobs near me,
Jobs in [City],
[keyword] jobs near me like SEO Jobs near me
[Keyword\ job in [City] like SEO Jobs in Mumbai
The Keywords are very relevant for the job searches and people search these in millions. So, why don't you provide the exact location of the job in your job post?
Well, we can provide job locations in the job post which is one way to do it. But the better way to give job location is to include this in Job Post Rich Snippets to strengthen your Job Portal SEO.

We will talk later in this article about how this can be done easily?
Get Detailed When Describing Skills, Responsibilities and Qualifications
The way we have discussed the importance of job location and job salary with respect to their relevancy of jobs keyword searching in SERP's. It is quite understandable now that job qualifications, job skills and job responsibilities have also an important role to boost up a job post ranking in Google Job board and in SERPs.
You might know keywords like "Latest jobs for Graduation" or "Graduation pass jobs" is a very good keyword which contains qualification and eligibility as the main key phrase.
What you can do to make a job post better?
You must need to add the qualification section, eligibility section, age limit section and responsibility section in your job post.
You can create an H2 or H3 heading following this approach –
Add [Main Keyword + Skills Required] as a heading
Use [Main Keyword + Eligibility] as a heading
Use a similar approach for other things and provide right and accurate information of the job under those job post headings for your Job Portal.
This will boost your Jop Portal SEO gradually like a rocket launch graph.
Best Plugin for Job Website SEO
Now, the most important thing which SEO Plugin you should use for JOB Portal SEO or Job Website SEO? As we have discussed earlier Job Rich Snippets is a bit different and needs some particular data about a job.
A Job Rich Snippets must contain these data –
Job Meta Description
Job Title
Salary offered by Job Provider (Exact Amount or Salary Range)
Salary Currency
The Salary Payroll i.e Monthly, Yearly
Job provider name
Job provider website URL
The job provider or organization logo URL
Complete location of the job which includes Local Address, City, State, Zipcode and Country
The original data on which the employer posted the job including the time
The date when the job posting will expire
Employment type from the below-given values
Posting ID (Recommended)
Employment type for Job Portal SEO Rich Snippet
Full Time
Part-Time
Contractor
Temporary
Intern
Volunteer
Per Diem
Other
So, to put all these data in a job post, I will recommend Rank Math Plugin. Rank Math plugin has Job Rich Snippets feature included in their Bundle.
If you are currently using either of Yoast SEO or All in One SEO then You can use Rich Snippets Plugin which is Schema – All In One Schema Rich Snippets.
But Rank Math SEO Plugin has features to import SEO data from Yoast and All in One SEO which will help to migrate your SEO plugin without losing any SEO data and traffic.
So, now it's totally your choice to go with two plugins or a single Plugin. In both ways, While writing your post you will get options to include rich snippets and you have to choose Job Posting here.
Evaluate Schema Markup for Jobs Using Google URL Inspection tool
Once you are done with your job post writing, on-page SEO and job posting rich snippets or scheme markup then it's time to evaluate your efforts.
Publish your post and follow the below instruction to validate your Job Schema to perfect your job Post SEO.
Log in to Search Console and Open URL Inspection Tool
Enter your new job Post URL and click enter to retrieve data from Google Index
Click on Test Live URL
Very the Job Posting Scheme. It should be green and must not have any errors or warnings and also the page should be mobile-friendly.
Evaluate the Job Post-Rich result in Google Rich Snippets Tool
If you want an alternative way then you can use the Google Rich Results Test to analyze the rich snippets for your job posts. This tool can be used for URL test or code test if you have an HTML website.
Verify Job Post Indexing status in Google Search Console
Once your Job posts are indexed and if it contains the Job Snippets then most likely it will start appearing in Google Job Board. This will help you to gain organic job search results.
Refer to this image below and see some of the job posts position in Google Job Board. You can check yours in the "Performance Section" of Google Search Console.
Let me know if you need any help with this.

Isn't it amazing?
Now navigate to the Job Posting section in Search Console and check if you have any indexing error or warnings there.
If there are such errors like Missing field "jobLocation.address" or Missing field "hiringOrganization", then fix those errors using your job posting Snippets tool. Once fixed validate this using the URL inspection tool and submit for reindexing.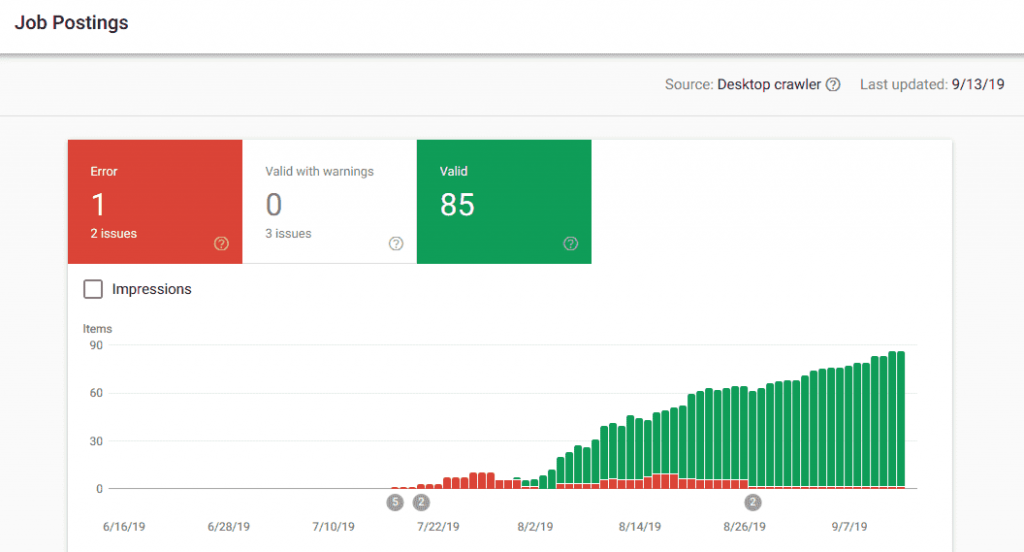 What more you can do to Rank a Job Post?
We have discussed all the SEO aspects which you can apply to make your Job Post SEO better. if you follow all these then within a week and you can absorb the change in the traffic of your Job website.
But, you know there is always a possibility to do more with the blog post. That's why I am going to tell you what more you can do to gain more visitors on your job website.
Use AMP if your website load is slower or if your hosting is not good
Try to gain some good quality backlinks for your website
Make your website cooler like joblelo.net. This will help people to visit at least 3-4 pages each time they come to your job website.
Posts jobs on time
Give accurate information about the Job
Make a mobile application for your website as we did for JobLeLo
Do proper on-page and off-page SEO of other important pages including Home Page.
Increase your Social Presence
Reach out to video audience through YouTube and give regular updates about the jobs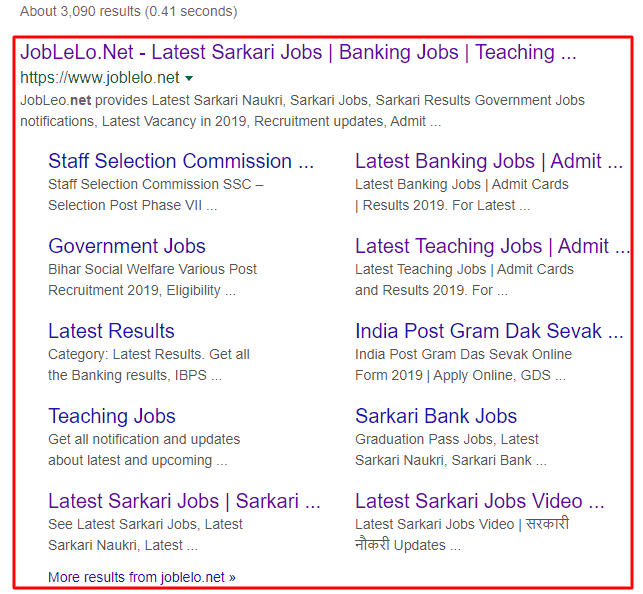 The above picture depicts the JobLeLo website result in Google Search after 1 month of launch and you already have seen the Google job board results at the starting of this article. That's what we call perfect job Portal Website SEO.
Conclusion – Job Portal SEO Practices
SEO is an important part you now this. So, to get a better result try to embed better SEO practices that are relevant to your website. This helps search engines to identify your content properly and later it will boost your website in all aspects.
So, if you need help in your Job Portal or Job Website SEO then you can contact me on my WhatsApp number +91 6201083671 anytime.
We are providing Job Portal SEO services and SEO training at an affordable cost.

Okey Ravi
Thanks for reading this post.
Comment your queries below and Give this post a 5 start if you liked it.
Have a good day!
1. Which theme is used by the Sarkari Result Website?
2. Can you suggest a good web hosting for the job portal Website?
3. Is Ranking a Job Website easy in 2020?
No, it'ds not. The competition is very tough now for job post ranking. Still, you can make it if you follow all the Seo rules and apply god strategies.
4. Can I get a contact number for a Job Website Developer?
Well, sure. You can call us at +91 6201083671 for all kinds of website development and SEO services.