Rank Math SEO Plugin Review – Killer SEO Features for Free
June 20, 2019
2021-03-20 11:48
Rank Math SEO Plugin Review – Killer SEO Features for Free
Rank Math SEO Plugin Review – Killer SEO Features for Free
Rank Math SEO Plugin Review – We are using Rank Math SEO Suite for the last 3 months. The Rank Math SEO plugin is amazing and loaded with premium features at no cost. We had also compared Rank Math vs Yoast SEO Plugin which you have liked a lot.
In this article, we will see all the premium features provided by Rank Math SEO Plugin. This will help you to understand and analyze how Rank Math will affect your website SEO?
So, let's start with meta tags including meta description, SEO meta title, meta keywords, and slug. Then we will see some advanced features like an inbuilt 404 monitor, Redirections, Search Console. SEO analysis and other important features like keyword tracer and search snippets.
Rank Math SEO Plugin Review – SEO features provided by Rank Math
Features are the prime reason for linking rank math for me. They have a ton of good SEO features which other plugins provide in their premium versions. Here is the list of all the important SEO features which are provided by Rank Math SEO Plugin for free.
A level up embedded SEO analysis tool
Page-by-page SEO analysis is possible with this feature. Even you can show your SEO score on the related webpage. Follow the step below to enable this SEO analysis functionality.
Open WordPress dashboard
Navigate to Rank Math ->Dashboard
Find and enable the SEO Analysis feature from the listed feature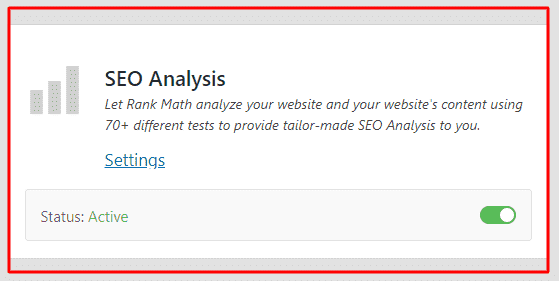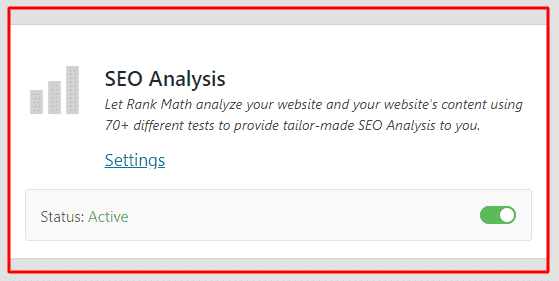 After enabling you can check your SEO analysis navigating to Rank Math -> SEO Analysis. They are using 40 SEO factors to consider and detect SEO of any webpage published on your website. See what we have found on site-wide SEO analysis of our homepage.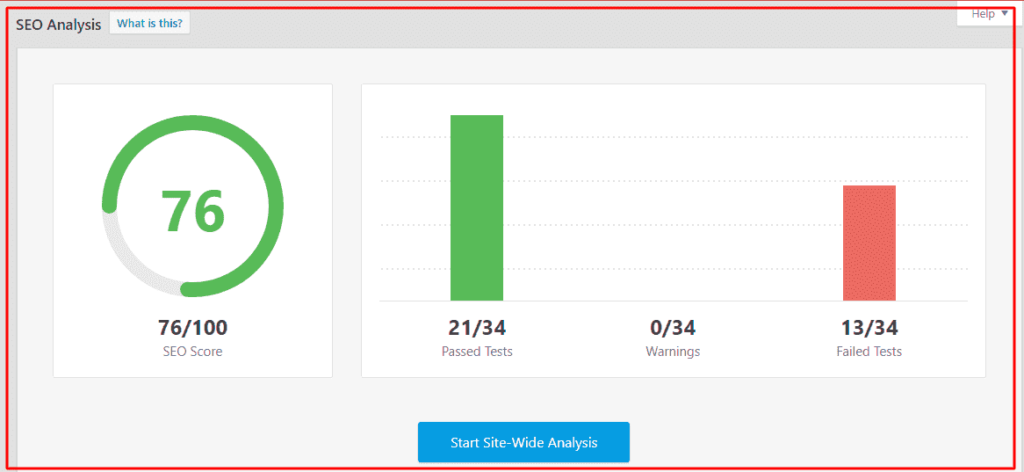 Advanced SEO Optimization features enabled
Advance SEO including rich snippets, Facebook open graph, 404 monitor, Redirections, woo-commerce compatibility, Facebook authorship, Social media integration all features are embedded in this.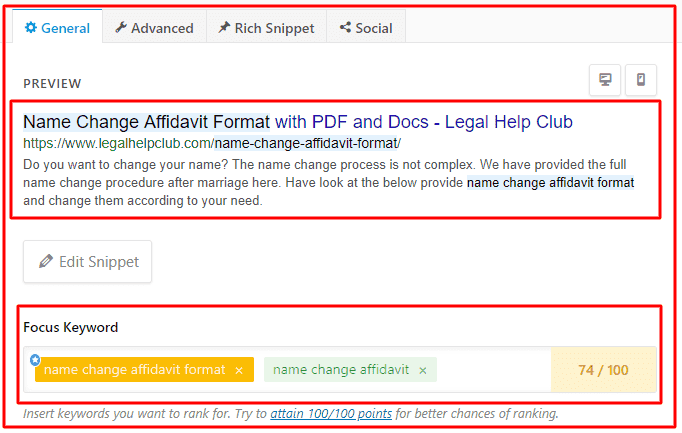 5 Keyword optimization and keyword suggestion
Unlike Yoast SEO Premium you can add up to 5 keywords within a webpage or blog for free. But this feature in paid in Yoast SEO. Along with this Rank Math SEO Plugin will also show you the suggested keyword which you can use in your main keyphrase section.
Have a look at the key phrase suggestion I found on my blog while writing a post for one of my clients.
Embedded Rich Snippets -No need to install any plugin for Rich Snippets. Rich snippet feature is already there.
Auto creates XML sitemap
You can easily create and submit your sitemap to Google search console using this feature. To enable sitemap feature in Rank Math plugin navigate to Rank Math – > Dashboard and then enable the feature.
After enabling this you can check your sitemap on https://www.domainname.com/sitemap.xml
Rank Math creates search engine compatible sitemap automatically for your website.
AMP SEO feature in Rank Math
Rak Math SEO Plugin allows you to enable or disable SEO for AMP Pages. It will work better when you have an AMP plugin installed already.
Breadcrumbs are important for SEO and users' perspectives. It will open up paths for website ranking. Rank Math adds Google-compliant breadcrumbs to your website automatically.
Although breadcrumbs is a theme feature. But sometimes when you use free themes then this feature will not be there. In those scenarios, this breadcrumbs feature will play an important role for you.
Embedded 404 Monitor
I am mentioning this feature here. But as of now, I can see that this feature is not working properly. Rank Math SEO Plugin is just increasing my 404 hits. But after verifying this that most of them are faulty. So, closed this feature as of now. I will update more about this after some newer updates.
Well, if you don't know what is 404 error then in simple words, It's a page not found error occurs when somebody tries to open a broken link of your website.
Broken Links will break your website SEO, So fix it before it arises 🙂

Okey Ravi's View
Redirection Manager in Rank Math
When you get 404 page not found error then you need to fix those broken links. This can be done in two ways.
Make the broken links live again if possible
Redirect broken links to a new link
So, for redirecting a broken link to a new live link you can use Redirection Manager of Rank Math.
Just navigate to Rank Math -> Redirections- > Add New to add a new redirection.
These redirection types are supported in Rank Math –
301 Permanent move
302 Temporary move
303 Temporary redirect
Maintenance Types Supported
410 Content deleted
451 Content Unavailable for Legal Reasons
One thing I like the most is they have an advanced feature in redirection. By using that you can go for an exact match, contains starts with, end with, or regex scenarios for a particular link.
Google Search Console Integration in Rank Math
I am liking this Rank Math Google Search Console Integration too much. This is something I was looking for in previous SEO Plugins.
Sometimes, it happens that you want to check your average keyword positions. So, for that, you need to login into your search console. No need to do this.
Rank Math has made this easier for us. Now you can track most of the search console data from your WordPress dashboard only.
To use this feature navigate to Rank Math -> Search Console. if you are doing it for the very first time then you have to provide access to the Rank Math Plugin to access your Google search console data.
You can check overview and Search analytics also here including clicks, impressions, CTR and Position.
To be continued….. Still chasing the race
Thanks for Reading this Rank Math SEO Plugin Review
We will suggest you join the Rank Math Affiliate program, as you want to make a decent affiliate commission by promoting it to your clients and customers.
Leave your valuable comments and suggestion below.