Create Professional YouTube Thumbnail Online Using Canva
November 24, 2017
2020-05-29 10:12
Create Professional YouTube Thumbnail Online Using Canva
Create Professional YouTube Thumbnail Online Using Canva
Today, YouTube is growing Very Fast. In this scenario, one thing that every YouTuber have to consider is "Creating a Good Thumbnail For their YouTube Videos."
Today, I am going to talk about how to create the best YouTube Thumbnail. For this,
My recommendation is to use an online site called Canva.com.
This site will offer you a great experience to create thumbnail and a lot of different online images like Facebook Post, Instagram post, Blog Post, Ads, Facebook Cover, YouTube Cover, twitter and Linkedin Covers, Logos, Business card, Poster and more.
Here, I will Especially talk about creating a thumbnail, Similar process can be applied to create any one of the discussed above.
Read Also – How to create an ad using Canva?
Creating a Thumbnail Step By Step
#1. Open Canva
#2. Choose "Create a design" and then choose YouTube Thumbnail. You can see a lot of things which can be created using canva there.
Follow the Image below.
#3. Now you will be provided a space to create thumbnail, Please don't worry about size.It is already in size.
You can choose Layout, Elements. Adding background colour and Adding text will also be done here.
You can also upload your own image to add in the thumbnail.
#4. You can show your art here, It's very easy to use. Once created you can download your created image in either png, Jpg and other formats available.
Image Formatting Features in Canva
Here you can crop an image, flip an image and you can also Filter the Image. Filtering of Image means setting the Brightness, Contrast, Saturation, Tint Blur, X-process and Vignette of image.
There is some predefined filter which you can directly apply. Follow the below image.
You can copy a image as well using copy function.
Arrange – By this You can manage the position of image i.e forward or backward
Text Formatting in Canva
Here you can set the Font, text Type, Text Color, text alignment and also the text spacing. Copy and Arrange function is also available for text.
You can also add a link. At last, deleting some element and deleting some group option is also available for text and Image both.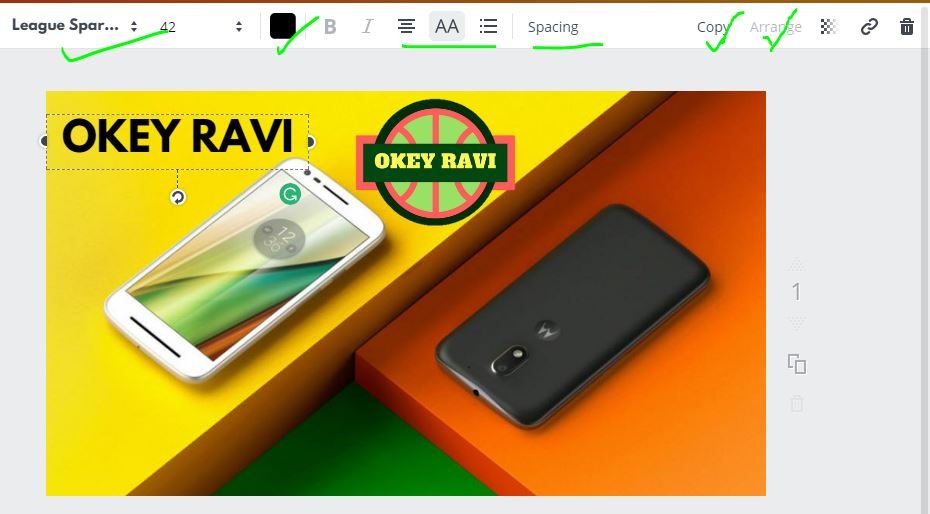 So, overall experience to create a thumbnail via Canva is very good. A lot of good features are provided to create a professional image.
Now, I think you have a good idea of how can you create a professional YouTube thumbnail online using canva.
If you have any query then comment below.
Happy Blogging
Read Next – How to add Keywords on Your YouTube Channel?