Video – How to get Featured Snippets on Google?
August 26, 2019
2019-08-31 1:06
Video – How to get Featured Snippets on Google?
Video – How to get Featured Snippets on Google?
Do you want to get featured snippets on Google for your website keyword searches? Well, it's not so tough. I have tried to give you a rough sketch on how Google tackles featured snippets through this video tutorial.
What are Featured Snippets?
Featured snippets are Google ranking factor which will boost your traffic immensely. You might have seen results on Google coming in a box format and in the form of question and answers. That is what we call featured snippets.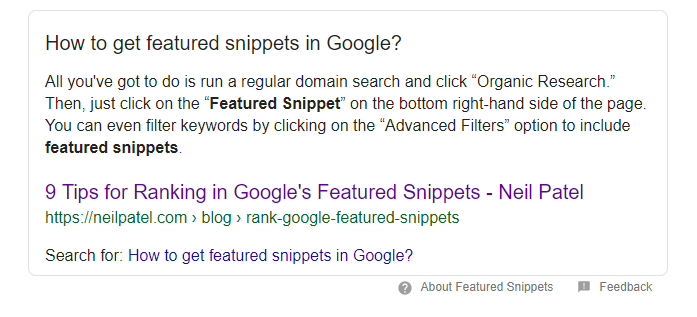 Watch this tutorial and learn all about the preconditions that are needed to get a blog post featured in Google search for some particular keywords. mainly it will be a keyword which will be in the form of a question or like questionable in nature.
Video tutorial on how to get featured snippets on Google Search?
Want to get featured snippets – Keep these things in mind
Answer questions in your blog post
Add a "how-to" section to your website
Add a good and relevant image at the beginning of the post or in the answer to the query
Try to keep your answer short and crisp
Three types of featured snippets can be seen on Google –
Table featured snippets
Paragraph featured snippets
List featured snippets
So, now enjoy and try to get at least one featured snippets to result for your website in the upcoming 1 month.
If you get so, come back here and express your feelings. Good luck!
Next – See what Neil Says about featured snippets
Read these awesome SEO Posts now –