Hello readers, Are you searching for "How to Transfer Posts and Pages on WordPress Websites?" Then You are at the right place. Sometimes You need to move your content from One site to another. Today I am sharing you an amazing trick to import you WordPress data (Post, pages, Media, galleries and more) from one WordPress Website to Other.
WordPress is a huge Platform, millions of Website makers and bloggers are here like you and us. It provides you a flexibility to make a website with Zero coding knowledge.
You can easily build your website with the help of themes and plugins. So sometimes It may possible that you need to transfer some of your files from one WordPress to other. For Example – Posts, Pages, Submissions, galleries and  Media files.
So I am giving you here a clear picture of Importing Files On WordPress Websites.
How to Transfer Posts and Pages on WordPress Websites?
It's a step by step procedure, So, let's have a look at it. Here I am using my two domains One is Okey Ravi and second is DownAdda.
So, Practically I am going to transfer some of my Posts from OkeyRavi to DownAdda
Exporting Data from WordPress Website
Here are the steps You need to follow –
Step 1: Open Your WordPress Admin Panel of the website from where you want to transfer
Step 2: Go to Tools-> Export. When You enters into Export Section, then you will be asked what you want to export. Here are the things which you can Export and Import by this method –
All content (This will contain all of your posts, pages, comments, custom fields, terms, navigation menus, and custom posts.) Very helpful when you want to migrate your sites.
Posts
Pages
Submissions
Templates
Galleries
Albums
Gallery Tags
Media
Tables and
More depending on what other plugins you have installed
Step 3: Here I am taking an example of some Specific Post Export. Then I have to choose Option 2 Posts (see the above picture).
Here you have to choose Categories, Start and End dates, Author, Status (Published, Drafted, Scheduled, pending, Private). Choose according to your requirements.
Step 4: Once You have done Click on Export Button. You will get an XML file of your relevant data, which you need to import on your other website.
Importing data in WordPress Website from other domain
To import WordPress data in WordPress you need an XML file + WordPress Importer Plugin. You can get that XML file by exporting some other website content.
These are some specific things which you can easily import into your WordPress.But keep in Mind You need to find an Importer for that.
If the importer you need is not listed, search the plugin directory to see if an importer is available.
1. Blogger – Import posts, comments, and users from a Blogger blog.
2. Blogroll – Import links in OPML format.
3. Categories and Tags Converter – Convert existing categories to tags or tags to categories, selectively.
4. LiveJournal – Import posts from LiveJournal using their API.
5. Movable Type and Typepad – Import posts and comments from a Movable Type or TypePad blog.
6. RSS – Import posts from an RSS feed.
7. Tumblr – Import posts & media from Tumblr using their API.
8. WordPress – Import posts, pages, comments, custom fields, categories, and tags from a WordPress export file.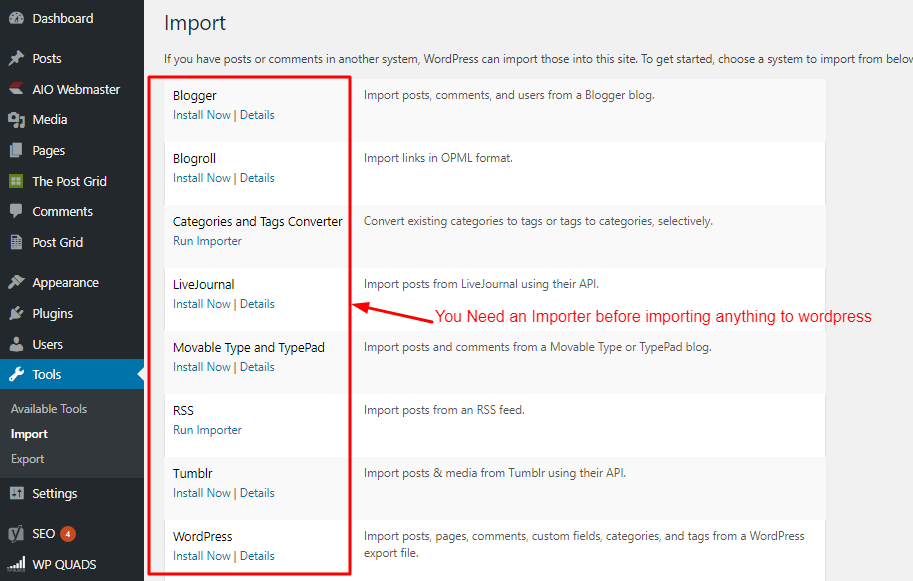 Related Read: How to install WordPress in CPanel Using Softaculous App Installer?
So, Here are the Steps to Import All/specific contents to other website/domain-
Step 1: Again open up the WordPress Admin Panel of the website where you want to import contents.
Step2: Go to Tools->Import. Here you need to Install WordPress Importer. By default, it is present there. You just have to click on Install Button.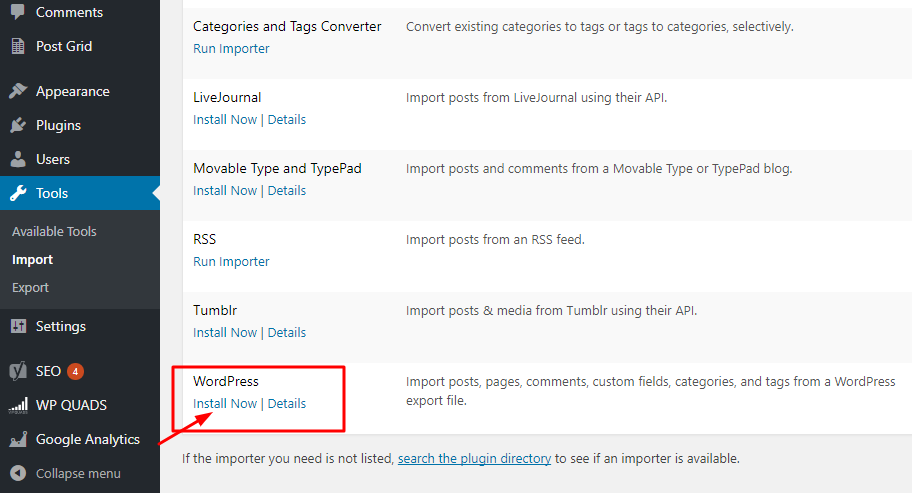 You can also install this plugin manually.
Step 3: One You have installed the WordPress Importer Just click on Run Importer to start it.
Step 4: Upload the file you want to import and Assign the Authors and click on Submit.
Step 5: All done. Files imported successfully.Now enjoy.
So, I think You have got all the things at the right place. and the today's topic "How to Transfer Posts and Pages on WordPress Websites?" will be clear to you.
What Do You need to do more after successful import?
Here are some common things Which you can do to rank your post. You have to make some arrangements properly.
1. Do the Proper SEO again. Don't know How to do SEO of a Post?
Related Read: How to Do SEO of a post to rank higher?
2. Change or Assign categories to your content
3. Add some Useful content to it
4. Add relevant pictures
5. Generate backlinks
6. If you have deleted your posts from the previous sites then You can redirect them to your new one. this will help you to gain views on the new website. If you already have backlinks then they beacme worthy for you.
If you do all things Your post will start ranking again. Thank You.
How useful was this post?
Click on a star to rate it!
Average rating / 5. Vote count:
No votes so far! Be the first to rate this post.
We are sorry that this post was not useful for you!
Let us improve this post!
Thanks for your feedback!
How to Transfer Posts and Pages on WordPress Websites?