Adsense Application Rejected | What to do next?
October 12, 2017
2017-10-31 9:51
Adsense Application Rejected | What to do next?
Adsense Application Rejected | What to do next?
Adsense Application Rejected | What to do next?
Okey oh, so you had done trying everything you could to get approved by AdSense.But, Yet AdSense is still not getting approved.
Well, It's not the end of the world! 😉
Now, what to do next?
There are the top two things you can do:
No 1: Don't lose your hope. Take your time to fix the issues on your blog that is mentioned by AdSense in rejection email and apply again. Remember, if you are disapproved, you can apply again and again until you finally get approved by Google AdSense. There's no issue with that. Just use the same email account that you used for the first time.You can see this email about Rejected Adsense Approval below.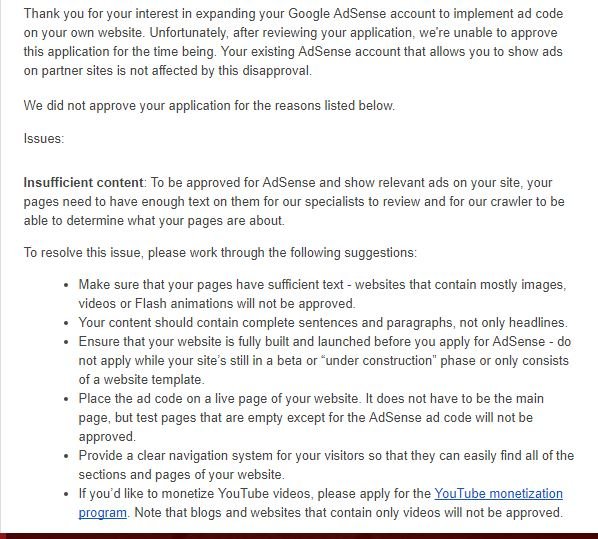 So Just find out your application is rejected and try to fix that and Apply For Adsense Again.G
Good Luck 🙂
No 2: There are many other trusted and high paying ads network you can use and trust me they are not hard as Google AdSense is in terms of getting approval. One door of opportunity is closed so the other one will open.
You can use these ad networks to earn money without AdSense. They are easy to get approved.
Infolinks is the leader in in-text advertising which offers 70% revenue share even if you're a newbie blogger. It is different from other advertising networks. It takes less space because it shows in text ads or pops up ads. You can use it with Adsense safely.
It is a pay per click. They offer advertising options like insearch ads, intext ads, inframe ads, in-tag ads.
Alexa Rank: 19495 (It may Vary)
Min payout: $50
Payment method: PayPal, Wire Transfer, eCheck, Western Union, Payoneer
SIGN UP NOW (IT'S FREE AND QUICK!)
BidVertiser is another top alternative to Google AdSense which pays you for valid clicks on ads placed on your website. It is great Adsense alternative if you didn't get Adsense approval or got banned. Bidvertiser offers Banner ads, Text ads, Mobile Ads, Slider ads etc. You can also make money by promoting your customized toolbar.
Alexa Rank: 9324 (India), It may vary
Min payout: $10 only
Payment Method: PayPal, Checks
Media.net is probably the best alternative to AdSense as it's powered by Yahoo Bing Network. I've tried Media.net a few years ago and the average CPM was much better than any other AdSense alternatives. Media.net ads are quite similar to Google AdSense and it's very easy to get approved if you have a quality blog.
Alexa Rank: 1850 (India), It may vary
Min payout: $100
Payment Method: PayPal, Bank wire
Watch this video and Know more about Adsense:

If you are facing any issue then let us know, We will try to answer you on our best.