How to Fix Site Behavior Navigation AdSense Policy Violation?
January 12, 2020
2020-01-12 21:56
How to Fix Site Behavior Navigation AdSense Policy Violation?
How to Fix Site Behavior Navigation AdSense Policy Violation?
Do you want to fix the Site Behavior Navigation AdSense policy violation? Generally, Valuable Inventory Scraped Content, Valuable Inventory No content, Not enough Content and other policy violation come when a blogger applies for Google Adsense. Well, one of my YouTube Subscribers got this " Site Behavior: Navigation AdSense". So, today we will see how can this be fixed?
Let's start this topic which what is the significance and real meaning of Site Behavior: Navigation AdSense Policy Violation?

One of my blogger friends recently got this Site behavior: navigation Adsense error when he has applied for Google Adsense
Google said, Site Behavior: Navigation can be counted under these important topics –
False claims of downloadable or streaming content
Linking to content that does not exist
Redirecting users to irrelevant and/or misleading webpages
Text on a page unrelated to the topic and/or business model of the website.
So, now the bigger question is if bloggers like you have got this error on their blog then how it can be solved. I am going to tell you all the important factors that can be helpful to rescue your WordPress blog from this error.
We have already covered a lot of Adsense policy violation and their fixes earlier. This can be beneficial for you to get a look at them.
Now let's talk about Site Behavior: Navigation and let's see how it can be resolved. We will take all the four points described by google and will see how to fic them.
False claims of downloadable or streaming content
Most of us while writing a post embeds the video. It can be a youtube Video, Dailymotion Video, Instagram Video or video from any other platform. well, these all videos are subjected to copyright.
We will suggest you to not use more such content before approval.
If you have placed a live video in your sidebar or footer then remove that before going for AdSense approval. Mainly this is for those bloggers who place live streaming in their sidebars. Mostly applicable to new news sites.
Well, remove this if you have such navigation to fix Site Behavior: navigation policy violation.
Linking to content that does not exist
We all know that inbound links and outbound links are important with respect to SEO. That's why when we write a blog post or create a web page we do linking.
But sometimes, the links that we have added to our blog may result in 404 or maybe deleted from the original source. A regular broken links check is important due to this. Broken link fixation ais also important for website good SEO health.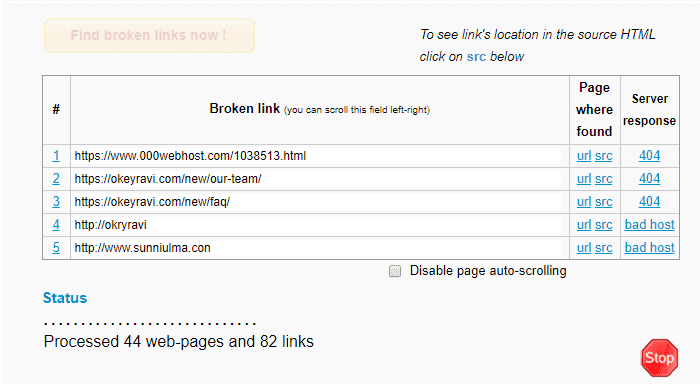 Make sure you don't have much-broken links on your website when you apply for Google Adsense.
Redirecting users to irrelevant and/or misleading webpages
Like we discussed earlier interlinking check is important. In the same way, for generating high income or get some traffic for some purposes people always do some misleading interlinkings. better you should avoid this if you have done.
Scenario 1 For example – One of the bloggers has a movie website and just because his AdSense is suspended due to copyrighted content he redirects his movie website to his main blog.
Scenario 2 for Example – You are using ad networks like pop ads or propeller ads where if someone visits your website he will get too many redirects. Google doesn't like such things. Make sure your blog doesn't have such a thing before approval.
This is really important to fix the site behavior navigation AdSense policy violation
Being a Blogger and a digital marketing expert we get AdSense Approval requests on a daily basis. Frequently speaking we have a bunch of people who writes content for all Adsense Approval websites.
But the main reason for starting this AdSense approval Process for bloggers is the same. There is a lot of people in the market who goes for AdSense approval on repetitive content. They have some sets of content which they use on any website to get AdSense approval. We have faced this earlier.
Sometimes it works sometimes not.
Please make sure the niche you have and the content you have on your blog or website resembles the same.
We have always urged people to follow all the Adsense policies and guidelines before applying Google AdSense. You should not be in a hurry. Most of us look for Adsense first and then they start creating content on a serious scale.
This is not symbolic of their long blogging career. If you have planned to be a blogger then you should create your blog completely first.
Once the design part is completed then do some keyword researching and start creating good content for your audience. Do proper SEO and try to rank some of your posts or pages to get some good traffic.
"Without traffic, there is no significance to have Adsense on your Website".

Okey Ravi
AdSense is only beneficial when you have traffic. So, don't go for AdSense in the initial phase itself. You know that it will increase your website loading speed and ranking will be slow for you. never forget this.
We hope our opinions will help you to fix the Site behavior Navigation policy violation of AdSense.
Thanks for reading this post.
Good luck!!
Let us know if you have any queries i.e comment your questions below.