Resolve Valuable Inventory: Not Enough Content AdSense Violation
March 22, 2019
2020-01-26 23:04
Resolve Valuable Inventory: Not Enough Content AdSense Violation
Resolve Valuable Inventory: Not Enough Content AdSense Violation
Valuable inventory: not enough content, valuable inventory: no content, valuable inventory: scraped content and valuable inventory: under construction are some popular Adsense privacy violations which people are getting these days. In this article, we will see how can you fix the valuable inventory: not enough content error.
A day back, I have applied for Adsense on one of my client websites. After this Google has sent this message to me.
What Google says about "Valuable Inventory not enough content"?
Google says we've found policy violations on https://www.legalhelpclub.com that are preventing your site from being approved:
The site I have mentioned above is now approved for Adsense. You can check it as a reference.
Valuable Inventory: Not enough content
It's important for a website displaying AdSense to offer significant value to the user by providing unique and relevant content, and not to place ads on auto-generated pages or pages with little to no original content.
This may include, but is not limited to:
Paragraph copied from other sources
websites dedicated to embedded videos from other hosts like Youtube, Vimeo or Dailymotion.
Websites with gibberish content that makes no sense or seems auto-generated
templated or pre-generated websites that provide duplicate content to users. For more information, please review the AdSense programme policies, this help article about scraped content and Google's Webmaster Quality Guidelines.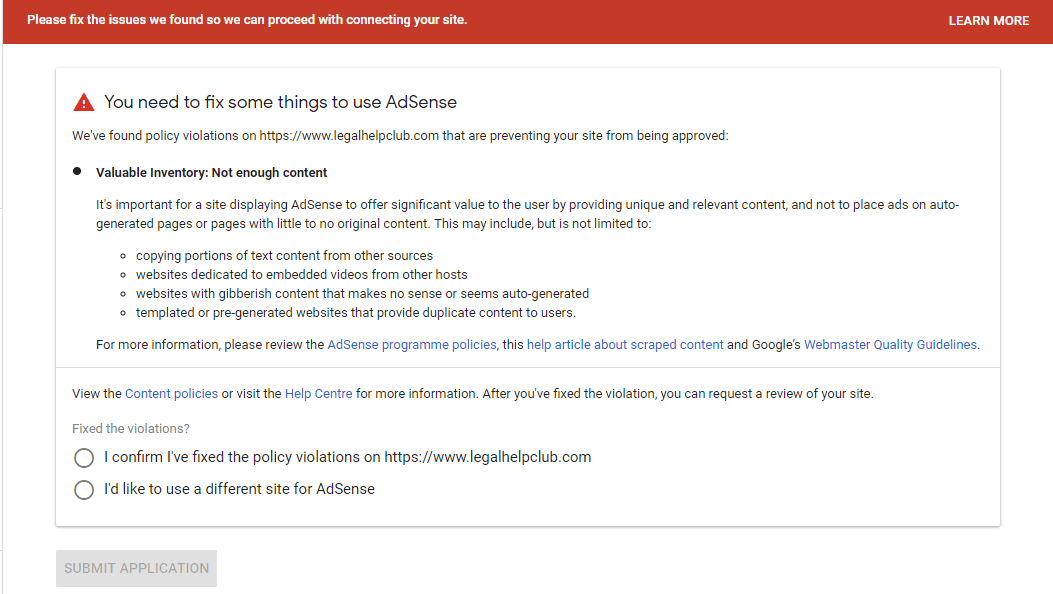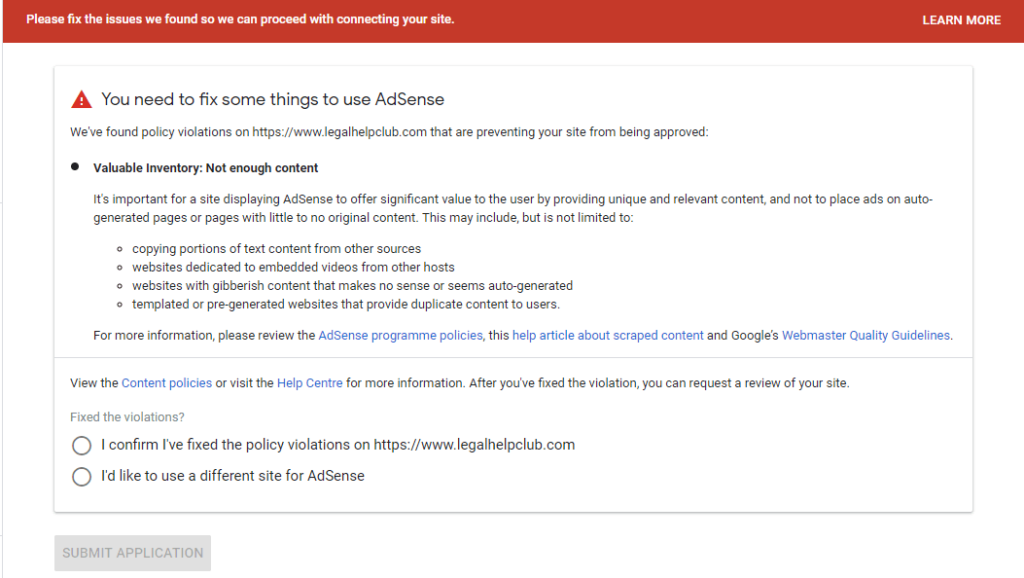 Now let's see the current scenario of the website
I have talked a lot about Adsense before which you can find below –
So, after getting Valuable Inventory not enough content violation, I was thinking about what have I missed this time. So, before mentioning what have I missed. I would like to tell you what is required to get fast Adsense approval.
Things to follow for fast AdSense Approval
1. You should have at least 20 posts on your blog. Make sure your blogs and webpages have more than 500 words and Self-created featured images. The HTML structure of a webpage should be maintained.
2. All the posts should be uniquely written by either yourself or by a content writer. Originality and uniqueness of a blog post matters for Adsense Approval.
3. There should not be any copyrighted material on your website
4. Avoid using the stock images from Pixabey, Sutter Stock or Canva before getting Adsense. Once you get the approval then you can use stock or free images. You might contradict me here. Many of you have told me that you have properly given the Image credit and the image you have used is free to use. They are not copyrighted. You are right.
But, I would like to tell you when your application reaches Google Adsense checkers then they will have enough information about your content. They will analyze everything including images, embedded videos, text, your website navigation, pre-used ads, and much more stuff.
In this process, they will find that the images used are duplicate images. You know it's free, I know it's free but who will tell the AdSense analyzers.
I hope you might get the point.
5. Make sure you have proper navigation on your site. Navigation means enabling breadcrumbs and maintaining a good menu structure.
6. Make sure you have Privacy Policy, About us, Contact us, Terms and Condition and Disclaimer pages properly designed with enough content. For example, your contact us page must contain the email, phone, address, contact form and if possible then map also.
7. If possible use a good theme or premium WordPress theme.
8. Make sure to contain at least 3-4 posts in each category
Now let's see the present scenario of my client site –
After analyzing I have found that there are few things that were missing on my client site. Although they have 18 posts, proper site navigation, original images created by Canva and all required pages.
What my client has missed?
The one thing that they have missed is the originality of the content. Mostly the content published on their blog was legal and law formats and you know forms are reusable. So, basically, I have to remove them and have to focus on the uniqueness of the content.
Once the Adsense is approved then they can continue with their own content. One more thing I found missing was the content in the about us page. They have written a very short paragraph in there about us page, which also needs to be fixed.
So, now the question comes what you need to do if you get the Valuable Inventory: Not enough content Adsense violation.
How to fix "Valuable Inventory not enough content violation"?
There is a slight difference between Valuable Inventory: No content and Valuable Inventory: Not enough content. I think the word is enough to describe. No content means there is a lot of things missing which I have described above.
Not enough content means things are in your control but needs a polish. So, I am describing here what you need to polish?
If you have got the valuable inventory not enough content violation then make sure to go through this checklist. Once all marked fixed then apply again for Adsense. You will get approval in on go.
Add some more fresh articles on your site. Try to write long and detailed articles.
Check your navigation and verify the content structure and length of older posts.
Keep your sidebar and footer engaged with good things like recent posts, subscription form, recent comments or some other valuable information.
Try to use at least one relevant images in your posts.
There should not be any category in which there is no post.
Add Privacy Policy, Terms and Condition, Disclaimer, About Us and Contact Us pages with enough content. This is mandatory to do.
If you follow all the above-said strategies then you will be able to resolve valuable Inventory: Not enough content error.
Conclusion:
Adsense policies are getting tighter day by day. If you want to generate good income through Adsense then you should focus on creating good content. As content is the king and it will be forever. Only the way of the presentation will change in the future.
Try to build your social image and solve people's problems through your blog. rest things will come all together.
I hope this post has helped you to know the fixation of valuable Inventory not enough content properly.
If you found it helpful, feel free to share. If you still have questions in your mind leave them below. I would love to answer.
If you need personal support and a full review of your website then buy this package.
Thanks for reading.
Read next – How to perform Image SEO?
Have a good day!