Today I am going to tell You How will You "Create an Admob Ad unit for your Android Application", As You Know, You can earn money through ads click on Android apps.So Creating an Ad Unit an adding it to the Android application is an Important Task.
Learn here: How to add Admob ad Units To any Android App?
Creating an Admob Ad Unit
Here are the steps you need to follow –
1. Create an Admob Account.
2. Now Login to your Admob Account.Go to Apps and then Add App
3. Now You have two options, Either You can Choose Your Published app, for this you have to click on yes or If you have not published your app on play store then click on no.
4. I am choosing here no, Because I have not published my app on Admob. Now you have to enter App name, Choose you app platform and click on Add.
5. Here again Click on Apps and Go To View All Apps.This is the time you have to use that app to create an ad unit.You can do this by clicking on Create an Ad unit.
You can also Click On Ad Units after selecting an app.
6. Now you have options to create three types of Ads – Banner, Interstitial & Rewarded Video
7. I am clicking a Banner ad unit. Enter Ad Name and click on save. You can also choose Custom refresh rate for your ad.After saving it you will get app unit id & App ID.Like this –
App ID: ca-app-pub-4843477176092525~3561930245
Ad unit ID: ca-app-pub-4843477176092525/5474256645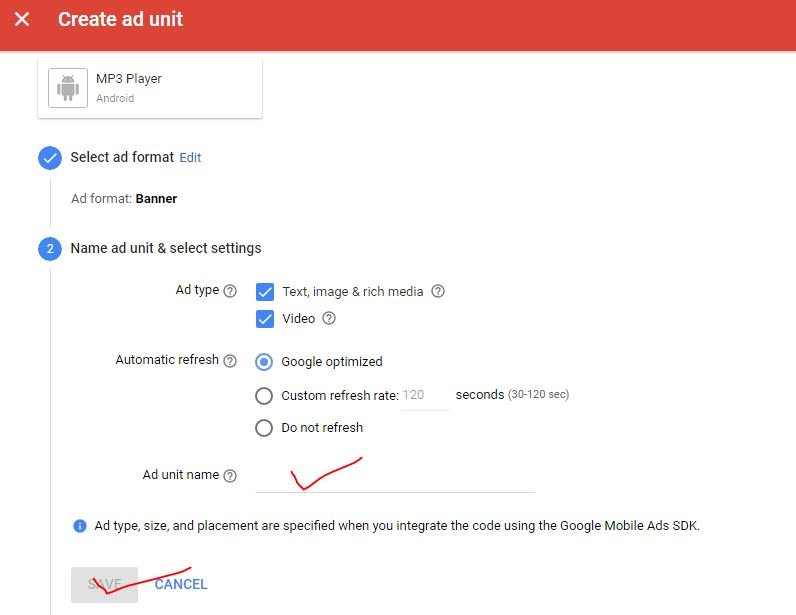 Now, In the same way, you can create interstitial Ad and rewarded video ads.App unit Id is required to enter into the Apk application.
Also Know: How to add Admob ad Units To any Android App?
If you have any query then you can comment below.
We are sorry that this post was not useful for you!
Let us improve this post!
Thanks for your feedback!
How to create an Admob Ad Unit for Your Android Application.