How to edit apk file on Windows 7/8/10 | Modify Android apps easily
November 29, 2017
2018-03-06 11:56
How to edit apk file on Windows 7/8/10 | Modify Android apps easily
How to edit apk file on Windows 7/8/10 | Modify Android apps easily
Hello techies, Toady I am going to tell you "How to edit apk file on Windows 7/8/10?" Easily.Whichever Windows version you are using this method will work on Every version On Windows.
Basically Today I will change App name, App Version, App Icon, Admob Ad Ids.I will prefer Nox Android Emulator today. You can choose any Android Player like Bluestcks, Andy Os, Genymotion.
Edit Apk file On Windows PC
You exactly need two important things to edit a .apk file on PC.here it is –
1. Android Player or Emulator for Windows
Top 7 best Android Emulators for Windows and Download 
2. An Apk editor – for this you can use a cracked version of Apk editor pro android application.Apk editor pro has all the functionality to edit an Android App.
Watch Our YouTube Video and Understand The Whole Process
Editing an Apk File on PC
After installing an Android Emulator (our recommendations – Nox Player & Bluestacks). Just install Android Apk editor on Nox player or Android Emulator.
#1. Changing the Android App Icon, App Version, App Name and Version code
Steps to follow – 
1. Open Android Emulator and then Open Android apk editor pro.
2. You will be provided four options, you can choose Either Select an apk file (Choose an Android app file from Memory) or Select Apk from App (Choose an installed apk file to edit).I am choosing Select Apk from App.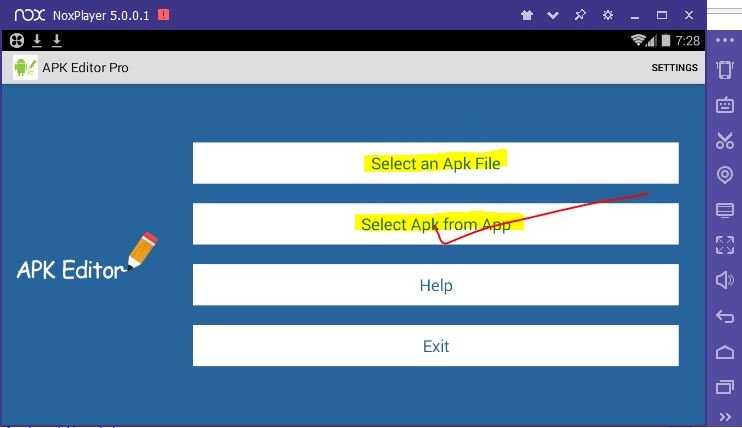 3. Now You have to choose an app to edit from an installed app. I am choosing "Indian HD Player"
4. Choose common Edit, It is common to change app icon, App name, and version.
5. After choosing " Common Edit" You will get an interface like this (image below).Where you can see a lot of information that is changeable is displayed including App Name, version and image.
6. You can change App Name, Launcher Icon, Version Code and version Name here. Once done Just click on save button below. You will be provided a new apk file with your changes.Here you can see some changes I have done.
7. You just need to click on save and install the created apk file to see the changes.All the changes will be reflected then.
Read Now – How to Make Money Online with Blogging?
I hope the topic Edit Apk file on Windows is clear to You now. If You have any query then You can comment below.