Top 7 Free Android Emulators | Run Android Apps on PC/Windows 7/8/10
November 29, 2017
2017-11-30 12:45
Top 7 Free Android Emulators | Run Android Apps on PC/Windows 7/8/10
Top 7 Free Android Emulators | Run Android Apps on PC/Windows 7/8/10
Android emulators/simulators are largely required to run Android apps & games on PC (Windows 7/8/8.1/10). However, choosing the correct Android emulator might become a daunting task, as if not selected properly they can really slow down your Computer (e.g Duos M & Sometimes BlueStacks). So, here we bring you the best 7 Android emulators for your PC – Windows 7/8/8.1/10 which you can use to run android on the computer.
See How To edit an Android Application On PC here –

Top 7 Free Android Emulators | Run Android Apps on PC/Windows 7/8/10
#1. Simulator 1 – NOX Player -Android Emulator
I am using this android player, It's amazing, I am not facing any hanging problem.You can play any games of Android and you can install and use your .aok files here.So, Nox App Player is our preferred Android emulator to play Android games on PC / Computer (Windows 10, 7 & 8)  or to try out new android apps due to its high speed.
Note: VirtualBox is not required to install Nox Player
Features of NOX Emulator
Nox App Player is fast, plus provides lots of features such as –
1. One-click root hide / unhide (disable or enable root)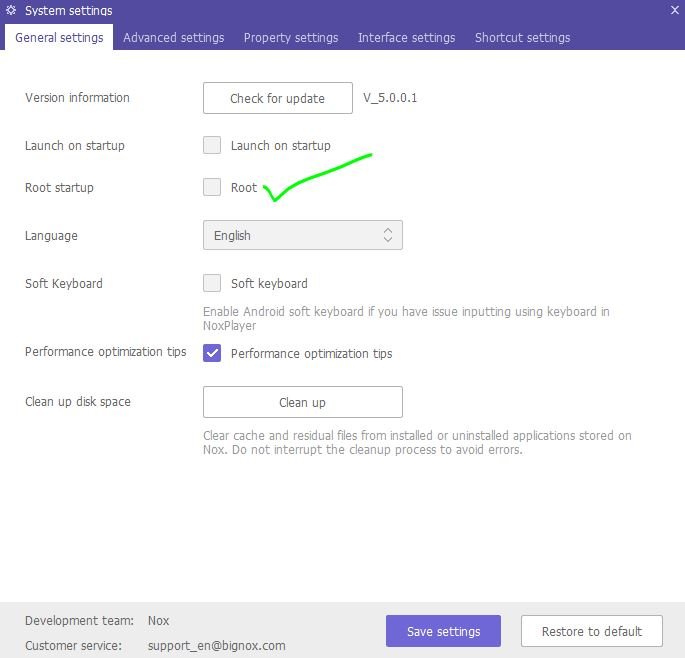 2. Ability to specify the CPU Processor & Ram size! which is great for gamers & app-testers to check resource usage.
3. Besides, these Nox even provides Keyboard mapping for touch input. Thus, you can specify the areas where touch is to be simulated, on pressing a keyboard key! (Awesome thing for gamers)
4. Plus, it even has an inbuilt GPS controller setting, by which you can even play GPS required games such as Pokemon Go directly inside Nox App Player.
Click here to Download Nox App Player HD for Windows 7 / 8.1 / 10 (Home, Pro, Professional 32-bit & 64-bit).
#2. Simulator 2 – BlueStacks Android Player
BlueStacks is the most widely used Android emulator or Android App Player for Windows. It used to be free but now is only in Specific regions
Easy One-click installation on the Windows System (Split-online installer, as well as an offline installer, is available).
Easily install 3rd party apks or Android apps by simply double-clicking on the .apk files.
No other-3rd party virtualization required (VirtualBox  isn't required)
Click here to download BlueStacks Offline Installer for Windows XP/7/8/8.1/10.
#3. Simulator 3 – KO Player
KO Player is the latest entrant on this list & is a great android emulator especially when it comes to playing Android games on your Computer / PC. KO Player provides a host of great features in its Android emulator such as –
1. Keyboard to Touch Mapping
2. Crisp Display on Bigger screens due to HD Resolution
3. Ability directly record your Android emulation screen & save it as a video. Thus, enabling you to share your Gameplay easily.
4. Besides, you can run multiple accounts of various simultaneously
5. Since it is made for gaming KO Player does require a good amount of RAM & graphics memory.
http://down1.koplayer.com/Emulator/nichole/koplayer-1.4.1052-co020.exe
#4. Simulator 4 – Droid4X Android Player
Droid4X is perhaps its the most interesting emulators mentioned in this article. Droid4X is designed for real Power! in the hands of the user, and its features to point to the same. Droid4X has some salient features such as –
1. It comes Pre-rooted, with Play Store installed.
2. It's pretty fast, doesn't lag & even allows you to configure your keyboard as a controller! for the emulator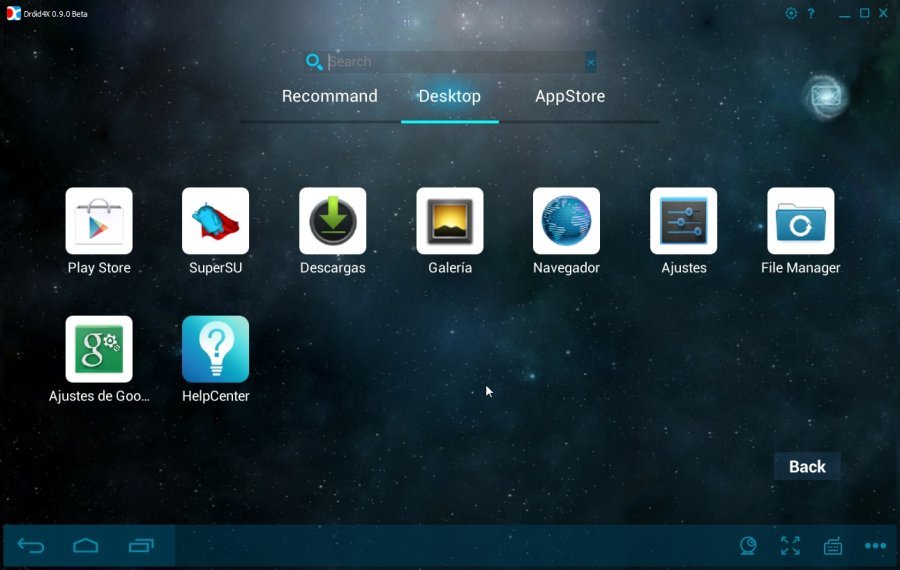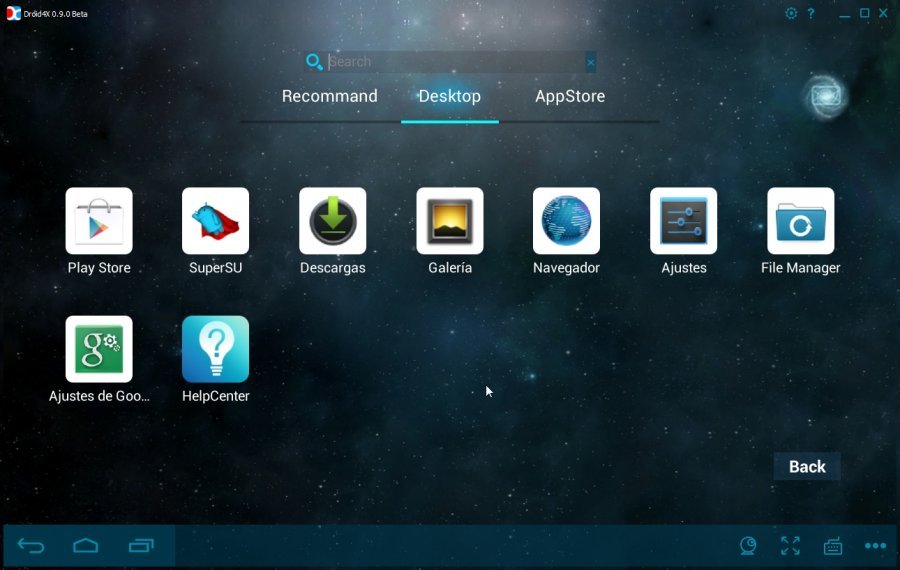 Click here to download Droid4X Android simulator for Windows 7/8/8.1/10
#5. Simulator 5 –  Andyroid – Andy OS
AndyRoid is one of its own kind Android Emulator for Windows 7/8/8.1/10. It supports some unique features which aren't supported by any other Android emulators out there such as –
1. Using your phone as a remote control while playing games!.
2. ARM support, You can directly install apps in your andy emulator through your host's desktop browser!.
3. As Andy is based upon VirtualBox, It doesn't require any dedicated Graphics card to function smoothly and works well even on Intel HD Graphics.
Andyroid is very similar and may be classified as an advanced alternative to Genymotion as both of them require VirtualBox to be installed on the system.
Click here to download Andyroid -Andy OS emulator for Windows 7/8/8.1/10
#6. Simulator 6 – Windroy – The Android emulator with a Windows Kernel!
Windroy is perhaps the unique Emulators present in this article because of the fact – It completely runs using the Windows Kernel!
Windroy doesn't require any external Virtualbox support. Like Bluestacks, also its quite light-weight and handy to use!. You just have to take care that the directory path wherein you install Windroy must not contain Spaces.
Click here to download Windroy with Gapps.
#7. Simulator 7 – Genymotion
GenyMotion is another advanced Android Emulator for PC and may be classified as a worthy alternative to/of Bluestacks. GenyMotion has advanced features like OpenGL, and hardware acceleration support. Its built on the x86 Architecture and hence is faster as compared to BlueStacks.
1. It is also available for Linux and UNIX OS.
2. You need to install Virtual Box before Installing "GenyMotion" on Windows and Unix based Systems.
Click here to download GenyMotion for Windows 7/8/8.1/10.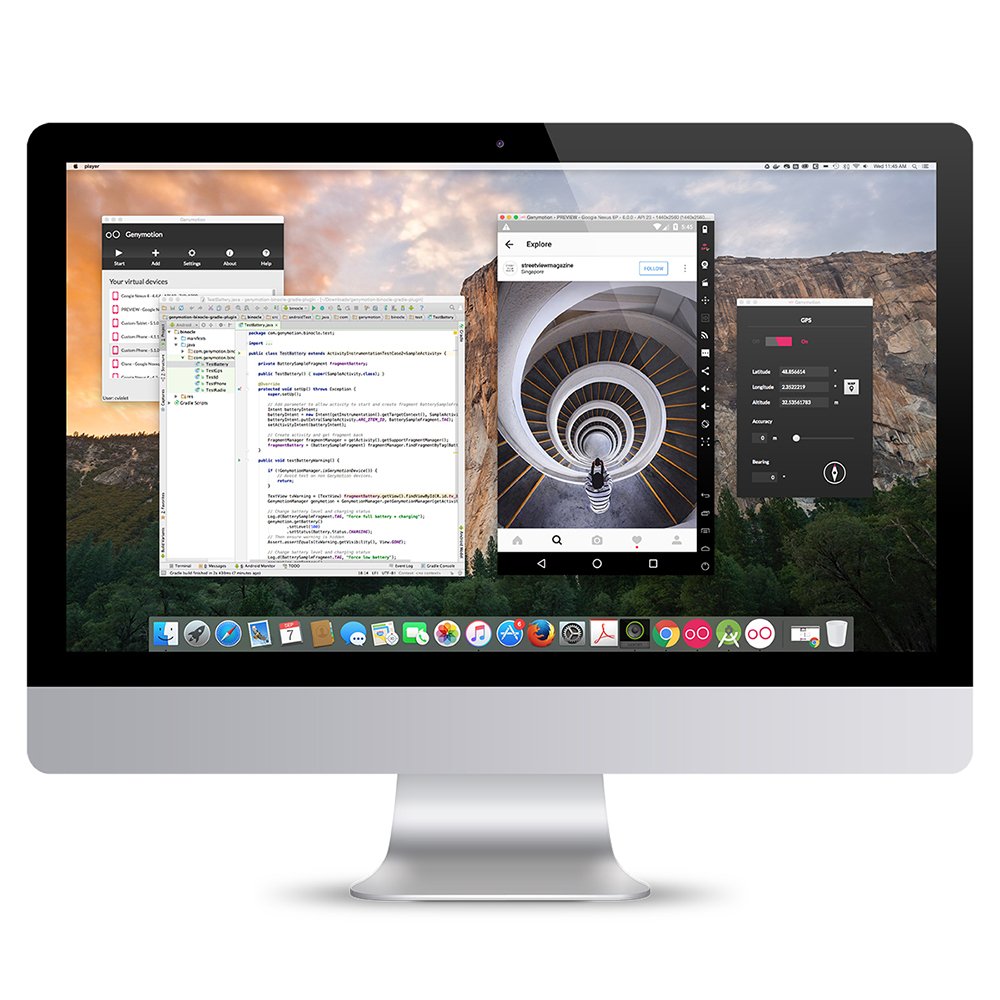 3. Simulate 3000+ virtual device configurations and every imaginable situation to ensure a better user experience.
4. Be Agile: Code and Test often and early before and after committing your code to eliminate pesky bugs.
5. Develop test cases with Java API and automate them with Command line tool or with our Gradle plugin while you are in development phase.